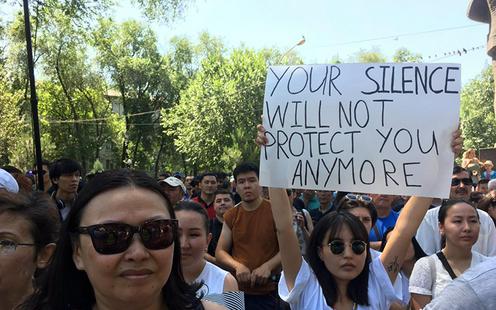 An authorised demonstration in Almaty.. Photo by Bagdat Asylbek, Fergana
The Kazakh Mazhilis (lower chamber of parliament) has approved changes proposed by the country's senate to a draft law on peaceful public assembly, Vlast.kz reports (in Russian).
Mazhilis deputy Kanat Musin stated that the amendments "do not change the fundamental content of the draft law, (already) approved by the Mazhilis, but are aimed at enhancing certain of its provisions".
"In particular, it has been proposed to specify a sufficient number of specially-designated locations for the organisation and holding of peaceful assemblies in central parts of districts, in cities of national importance, and in regional capitals and administrative centres," the MP noted.
Senators also requested the removal as grounds for rejecting an application of concerns of "impeding the operation of vital public installations, transport and other infrastructure and obstructing the free movement of members of the public", since such disturbances should already have been taken into account by the authorities when designating set locations for assembly.
According to the amendments, the unlawful actions of a few individuals will not be cause to curtail a peaceful demonstration already underway, and participants will be permitted to wear personal protective equipment (senators had previously objected to a provision in the original draft law prohibiting participants from covering their faces, arguing that this is sometimes necessary for health reasons).
The draft law is now considered to have passed through parliament and has been sent for ratification by the president, the announcement states. The document will enter into force as soon as it is signed into law by the head of state.
Under existing legislation in Kazakhstan, organisers of public gatherings and demonstrations are required to obtain permission from local executive organs, something which is rarely forthcoming. Where permission is granted, demonstrators are usually directed to out-of-the-way locations on the outskirts of towns and cities. Unauthorised demonstrations routinely lead to mass arrests. International human rights organisations and local activists have long called on the authorities to replace this authorisation system for public assembly with a simple notification regime, in line with international democratic practice, and, at the end of last year, President Toqaev announced his intention to make this transition. The relevant draft law passed through the lower chamber of parliament and was approved by the senate during the first reading on 30 April.
The draft law has, however, been criticised both by Kazakh citizens and by international human rights organisations – among other things for banning individuals who have already been fined or arrested for public assembly violations from organizing events (thereby ruling out the majority of activists in the country today) and for failing to adequately deal with the issue of locations (while the original law from 1995 permits local authorities to propose an "alternative location" for planned public assemblies, thereby allowing them to push demonstrations to fringe locations, the original draft law rectified this in a very limited way only by requiring the authorities to designate a set list of specific sites for all public assemblies "in central and other parts" of their jurisdictions. The amended draft law is yet to be published on the Mazhilis website, so it is as yet unclear how far senators' insistence on "at least three" designated sites "in central parts" will change this.)
On 14 May, the senate sent the draft law back to the Mazhilis for further work. Yet the new version of the document has also been subjected to critique. "The draft law still contradicts basic international standards. They have ignored the appeals of Kazakh and international human rights organisations who pointed out these discrepancies, especially with regard to the notification or authorisation character of organizing peaceful assemblies and the designation of set locations, not to speak of the long list of grounds on which the authorities can reject or curtail a peaceful assembly," Arsen Aubakirov, coordinator of the New Generation of Human Rights Defenders Coalition, said to Fergana.
He also pointed out that, in spite of a number of appeals and petitions, neither chamber of parliament agreed to officially send the draft bill for assessment by international experts "in order to check its correspondence with Kazakhstan's obligations under the International Covenant of Civil and Political Rights and numerous other international acts".
Experts closer to the government have extolled the amended draft law as a "hybrid model for peaceful assembly, between notification and authorisation systems". For them, the new law is a way for the country to create "its own public assembly culture", adapted to the Kazakh mentality, way of life, and culture, allowing for a greater level of interaction between citizens and the authorities and gradually raising the public's civil and political culture "to a level where such free gatherings and the expression of certain (oppositional) views are normal". This, of course, echoes Toqaev's reasoning while announcing the changes last year, when he described the move as a way to train Kazakh society in the responsible expression of its opinions.
The true significance of the new law, though, will depend to a great extent on exactly which centrally-placed sites local authorities specify as designated demonstration areas (and how many people are able to gather there). Local activists have called for these sites to include main central streets, but this is far from a given at this stage.