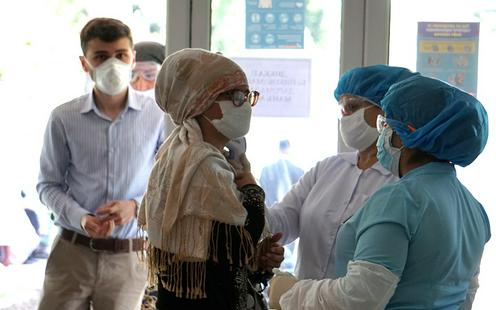 At a medical facility in Dushanbe . Photo from Asiaplustj.info
Around 50% of state employees in Dushanbe have been asked to go on unpaid leave in an effort to stem the spread of COVID-19 in the city, Asia-Plus reports (in Russian), citing an informed source in the Tajik capital's mayoral office.
It will be recalled that, despite officially confirming COVID-19 cases only three weeks ago (a full month and a half after other Central Asian countries), Tajikistan now likely has the worst coronavirus epidemic in the region. The authorities are now hurrying to act in line with recent WHO advice to "prepare for the worst".
According to the latest move, only managers of state agencies, essential services workers and leading specialists are to continue their work. "The decision does not include services that are vitally essential for the city – healthcare workers, law enforcement employees, energy specialists, water network employees, sanitation services, refuse collectors and street cleaners," Asia-Plus's source said.
While the Tajik authorities have so far been keen to avoid a general lockdown which they fear the country cannot afford, a number of steps have already been taken, including closing schools and a number of other establishments. A few days ago, the municipal authorities in Dushanbe stated that more than 512,000 people in the capital are currently in self-isolation due to the epidemic (according to official statistics, the population of Dushanbe is 863,000 people). This figure includes 403,500 teachers, students, school pupils and children of kindergarten age. The volume of passenger transport in the city has been reduced by 65% and 12 non-food markets have been closed, along with 660 service sector establishments. Over 12,000 workers are also sitting at home on leave.
Meanwhile, state TV devoted the entirety of last night's 23-minute news slot to images of President Emomali Rahmon visiting newly-built makeshift hospitals around the capital. Four new temporary facilities have been set up across the city at sites such as university dorms and the national medical college. Another site designated as a temporary hospital contains 144 shipping containers converted into 2-person accommodation units for use in quarantine camps in Uzbekistan and since donated to Tajikistan (given that these units contain bunk beds, one assumes that this site will be used for less severely affected COVID-19 patients). The total number of hospital beds at these new sites was said to come to 3,000.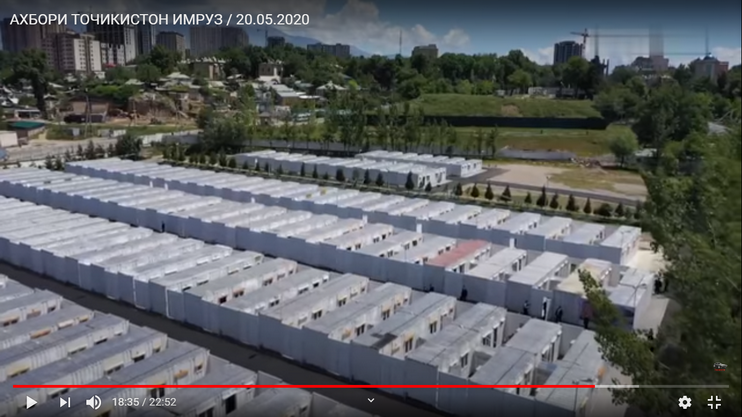 The temporary hospital site using containers donated by Uzbekistan. Still image from state TV channel TRT
President Rahmon has also ordered all medical facilities in the country, along with all pharmacies, pharmaceutical companies and enterprises importing medication, to switch to working 24-hours a day, while legislative amendments have been introduced to make it easier to produce and register medication. Every city and district around the country is also to organise courses to retrain medical specialists from other disciplines as virologists and infectious diseases specialists.
In steps less likely to help in the short-term, the heads of cities and districts that do not have infectious hospitals have been ordered to set them up by September 2021 (by drawing on the "generous spirit" of entrepreneurs) and construction work has begun in Dushanbe on what will be the biggest infectious diseases hospital in the country, on the site of a building project initiated in Soviet times but since abandoned due to lack of funds – though again this will not be ready until September 2021.
Having long attributed a noticeable rise in pneumonia cases throughout April to "unfavourable weather conditions", the Tajik authorities officially confirmed the country's first cases of COVID-19 on 30 April, the day before the arrival of a WHO mission sent to check on the epidemiological situation there. To date, 2,140 coronavirus infections have been confirmed in the small republic, but testing remains extremely low. Tajikistan already has the highest number of confirmed COVID-19 deaths in Central Asia.
While independent media have reported on severe shortages of PPE and medical staff being forced to buy their own supplies, state TV over the last week has focused on the "unparalleled philanthropic efforts" of President Rahmon (and, secondarily, a select few companies and businessmen) in sending food aid and medical products around the country.
Significant coverage has also been given to moves probably more calculated to provide the public with a sense that the authorities are acting than likely to have any real effect, including the head of the national academy of science proposing to make medication out of ginger and garlic, and the devotion of over half of yesterday's news broadcast to images of the mass disinfection of rural and urban streets. While the spraying of public places with disinfectants has been used in many countries around the world (such as France and Spain) it has been criticised as ineffective and even harmful by the WHO. It is even less likely to be effective on rural dirt roads, and when sprayed into trees at a height of three metres.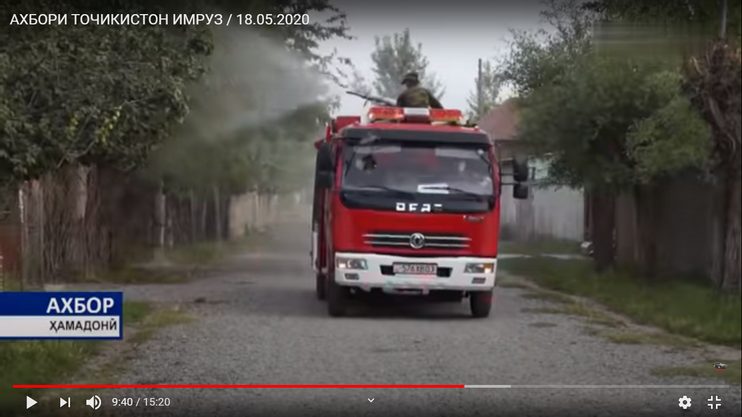 Spraying disinfectants in a village in Tajikistan. Still image from state TV channel TRT
Far worse use of disinfectant has of course been seen in several other countries during the present pandemic.