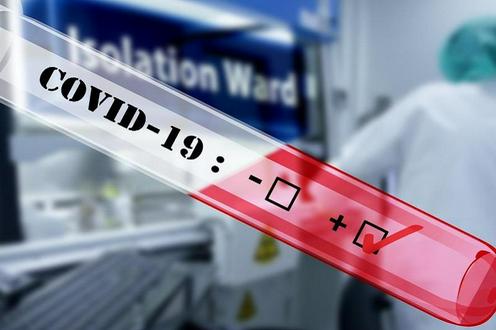 Image from coronavirus2020.kz
Kazakhstan has several times this week recorded daily COVID-19 case rises of over 400, data from the official site coronavirus2020.kz show. Prior to the onset of the country's "second peak" of the virus, the daily increase record was 264. On 30 March 450 cases were reported, on 31 March 476 and on 1 June 450.
The sustained rise comes as the country pushes ahead with major relaxations of its previously tough lockdown measures. Widespread interregional travel is in the process of being resumed, with checkpoints between the country's regions having been dismantled on 1 June (though local authorities will be able to retain or reinstate checkpoints to contain localised outbreaks).
From 5 June, long-distance coach travel is to be relaunched, though passengers will be required to wear masks. Local authorities are taking a differentiated approach depending on local conditions, but in many places public transport is now operating, with drivers instructed to refuse boarding to those not wearing masks and ensure that buses are not more than 50% full.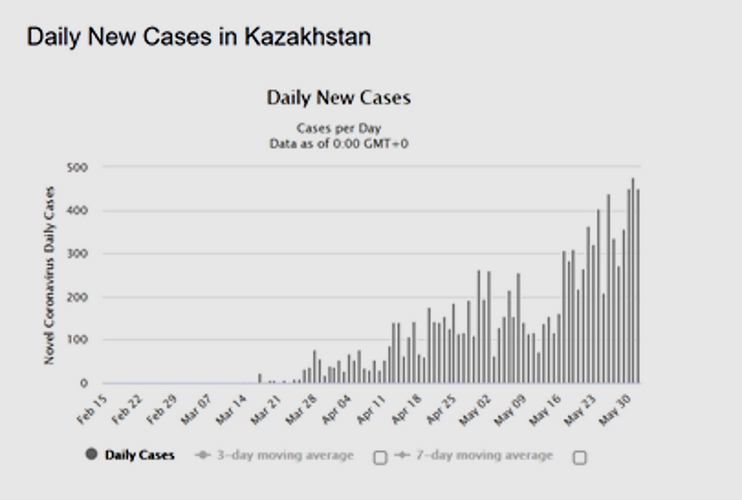 Graph showing daily new COVID-19 cases. From worldometers.info/coronavirus
With 11,571 cases to date, Kazakhstan has had by far the highest number of recorded infections in Central Asia, though it is also carrying out by far the greatest number of tests. Only 41 COVID-19 deaths have been reported, however, though there is evidence that alternative counting methods would have produced a significantly higher figure.
A similar, if less pronounced, pattern is observable in Uzbekistan and Kyrgyzstan as these countries too move to ease lockdown restrictions. This seems to have taken some officials, at least, by surprise. At the beginning of May, the head of Kyrgyzstan's National Scientific-Practical Centre for Control over Viral Infections forecast that, on the basis of then-declining infection figures, by the end of May new infections would be so low that it would no longer be necessary to produce daily statistics.
Only a part of the rise seems to be attributable to increased testing. Kazakhstan was conducting around 15,000 tests a day in early May, when 1-200 per day were being recorded, while at present around 20,000 tests per day are being carried out. Interestingly, last week Kazakh health minister Yelzhan Birtanov said that an increase in «prophylactic testing» (i.e. systematic testing of wider sections of the population who are showing no signs of illness, such as among workers at key industrial sites) was showing that around 80-85% of infections are asymptomatic at the time of testing. Given an incubation period of up to two weeks, of course, this does not mean that all these people remained unaffected. What proportion of such cases have later gone on to develop symptoms was not mentioned.
At a press conference earlier today, Kazakhstan's chief medical officer, Aizhan Esmagambetova, said that a growth in infection figures was natural given the increasing social contact resulting from the easing of the lockdown. However, she stressed that the rise in infections is "controlled and directed". Citing the R rate of infection (how many new infections each infection produces) as the key figure, Esmagambetova said that while the R rate was earlier 1.3, today it is around 1.1-1.2.
"Although we are observing a rise in the number of infections, we are not seeing a rise in fatalities or in the number of acute cases. This shows that the situation is under control and the health system is ready to react swiftly, identify cases, provide medical care to those who are severely ill and not allow a rise in mortalities," she said. At the same time, she reminded the public that retaining control of the infection depends upon continuing to observe prophylactic measures.
At the same press conference, health ministry representative Dias Akhmetsharip said that lockdown measures are being eased despite the rise in cases because it is vital to reopen the economy.
"We are easing lockdown measures and removing checkpoints so that the economy can be revived, so that people can earn money. The cases that we are detecting each day are asymptomatic cases, due to prophylactic testing and the fact that we have increased the number of laboratories. But the figures for fatalities and severe cases remain the same as at the start. This doesn't mean that just because we have removed the checkpoints, the number of sick people has increased. Many Kazakhs think that we relaxed the measures and then there was a sharp increase in infections," he said.