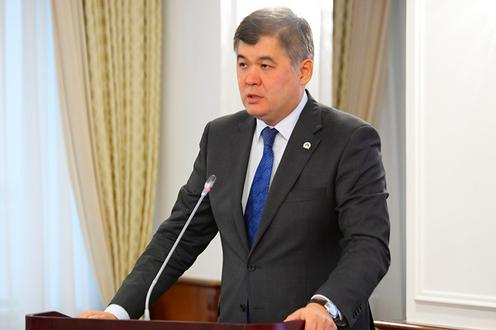 Yelzhan Birtanov . Photo from inform.kz
Kazakh health minister Yelzhan Birtanov has been infected with the coronavirus and has been taken to one of Nur-Sultan's infectious diseases hospitals.
"Dear friends, I regret to have to inform you of the unpleasant news that my last coronavirus test came back positive. Unfortunately this is not an asymptomatic case of the virus so I have been hospitalised in the infectious diseases hospital," Birtanov wrote on his Facebook page.
The minister added that he had been strictly following sanitary regulations, but that the risk of infection still remains. The risk he said, is greater for entrepreneurs, medical workers and government officials and others who are "working intensively to solve the problems linked to the effects of the global crisis and pandemic" and cannot do their jobs without travelling and meeting people.
Kazakh PM Askar Mamin and the governor of the Jambyl region, who recently accompanied Birtanov during a visit to the region, are to go into self-isolation.
In the same post, Birtanov expressed his concern with the rise in infection numbers in a number of areas in Kazakhstan and called on all Kazakhs to follow safety recommendations and maintain a "personal quarantine".
Since May Kazakhstan has been taking gradual steps to reopen its economy and from 1 June checkpoints between regions and restrictions on domestic travel began to be lifted, yet several regions around the country have been forced to reintroduce lockdown measures following rising case numbers. On Friday last week the Aktobe region sharpened its lockdown measures, closing establishments such as nightclubs, children's play centres and food courts and reducing operating hours for public transport, markets and shopping centres in the main town of Aktobe itself. The day before that, similar measures – plus the obligation for at least 70% of employees in state agencies and state-run enterprises to work from home – were introduced in the Karaganda region.
Lockdown measures have earlier been extended in the Mangistau region from 8 June, and restrictions will also reportedly be sharpened as of today in the Jambyl region.
The authorities have frequently blamed laxity on the part of ordinary Kazakhs for the recent rise in infections, above all a failure to comply with demands to wear face masks in public places and on public transport. The municipal administrations in Nur-Sultan and Almaty have several times warned residents that they may reintroduce stringent lockdown measures if citizens and companies continue to demonstrate a careless attitude toward the recommendations of the cities' respective chief medical officers.

(Update: The Almaty authorities have now, 15 June, decided to strengthen lockdown measures in the city. Markets are now to open only between 9 am and 4 pm (6 pm at weekends), and shopping centres from 10 am to 9 pm (with all cafés, restaurants and cinemas and similar in shopping malls totally closed). Among other things, banquet halls, pool halls, bowling centres and betting shops are to close, and at least 50% of state employees and bank workers must work from home).
Ordinary Kazakhs, however, could perhaps be forgiven for feeling that they are getting mixed messages from those at the helm. At the same time that state media is reporting on sharpened quarantines and criticising public carelessness, the very question of how quickly the virus is spreading in society has been thrown into doubt by a change in the way cases are being reported. Following a sustained rise throughout the second half of May, the number of daily new cases suddenly plummeted to around half of their previous levels during the first two weeks of June (see chart below).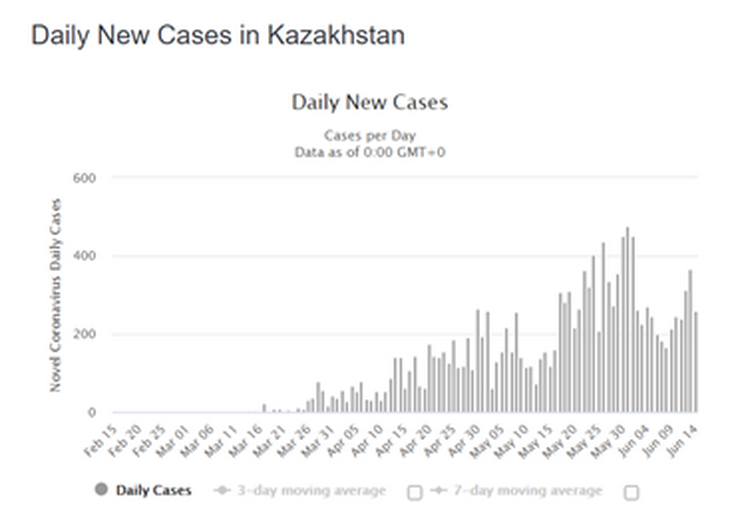 Daily new COVID-19 cases in Kazakhstan. Chart from worldometers.info/coronavirus
The reason, however, was not a drop in real infections, or even in real detected cases. On 6 June the Kazakh health ministry announced that it was now counting asymptomatic cases of the virus separately, meaning that data cited in widely used global databases such as worldometers.info and Johns Hopkin University's Coronavirus Resource Centre will only be showing confirmed symptomatic cases in their statistics.
To justify the new methodology, the health ministry cited unspecified "international practice" in "different countries". The likely model for Kazakhstan's shifting approach, however, does not lie especially far afield. On 27 May, the Russian health ministry announced that it would start doing exactly the same thing.
Both the Russian and Kazakh authorities have stated that around 40% of COVID-19 cases are asymptomatic. Kazakhstan's official coronavirus website only shows asymptomatic numbers for the last 24 hours, but RFE/RL's Kazakh service Azattyq is keeping a combined count of symptomatic and asymptomatic cases in the country. These figures show that numbers of asymptomatic cases are generally significantly higher than 40% of the total (on 13 June for example, there were 366 symptomatic cases and 623 asymptomatic – so a total of 989 cases in a day, while Kazakhstan's official daily record remains 476). Of course, many of the asymptomatic cases at the time of testing will go on to develop symptoms at a later date.
According to Azattyq, since the change in counting method 4,892 "asymptomatic" cases have been detected, meaning that the total number of confirmed infections in Kazakhstan has reached 19,701, while official statistics currently show 14,809.

The new method means that the 467 asymptomatic cases that have been announced today at the Rakhat sweet factory in Almaty will not make it into the official tally. After eight symptomatic cases were detected at the factory, around 1,500 of the company's workers were tested, nearly a third of whom apparently turned out to have asymptomatic forms of the infection.
This switch to a new Russian model of counting infections comes on the heels of an acknowledgement earlier this month that Kazakhstan is following Russian methods of counting COVID-19 deaths, by excluding fatalities where the virus is not judged to have played a significant role. At the time it was stated that this has only led to 37 deceased coronavirus patients being removed from the statistics. Kazakhstan has currently reported 77 deaths.
Meanwhile, the Kazakh government have announced the resumption of air connections with several countries from 20 June. Passengers from China, South Korea, Japan, Georgia and Thailand will simply be required to fill in a form and have their temperatures checked. Those arriving from Turkey will also require a certificate confirming a negative PCR within the last 5 days or else they will be quarantined for 2 days while tests are conducted. Flights connections with all other countries remain suspended.