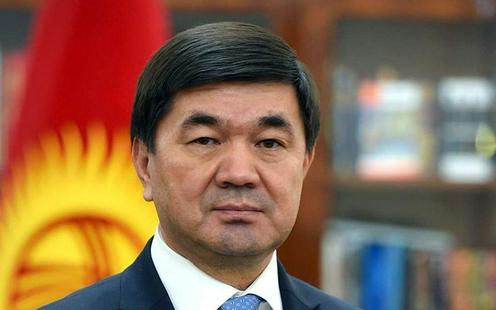 Mukhammedkaliy Abylgaziev . Photo from gov.kg
The Prime Minister of Kyrgyzstan, Mukhammedkaliy Abylgaziev, has resigned. The announcement was made in a statement by Abylgaziev himself on the website of the Kyrgyz government (in Russian).
Abylgaziev said that the decision had been made in connection with allegations of his involvement in financial irregularities committed during the re-registering of bandwidth rights. He had earlier chosen to place himself on leave while an official inquiry into the allegations was carried out, stating that he thereby hoped to avoid potential accusations of exerting pressure on the investigation.
Abylgaziev stated that investigators had not approached him during the two-week period of leave. He also reiterated that all of the accusations levelled against him are unfounded.
"Unfortunately the investigation is still not completed. In today's difficult circumstances (...) the government must be able to work with stability and enjoy the full trust of the public, and a situation of uncertainty hinders its proper operation. It is with these thoughts in mind that I have decided to step down from my duties as Prime Minister," the official statement reads.
In May it emerged that Kyrgyzstan's State Committee for National Security had arrested the director of the State Communications Agency, Natalya Chernogubova, who had left her post several days previously. It was announced that Chernogubova was suspected of corrupt practices during the licencing process. Later, journalists discovered that the affair was far more extensive than this and was connected to the sale of airwaves. Besides Chernogubova, the number of defendants in the case expanded to include her former deputy, two employees of the State Committee for National Security, and the cable television company Ala TV's director for strategy and development.
According to RFE/RL's Kyrgyz service Azattyk, law enforcement organs have been looking into the purchase of Ala TV by Russian mobile giant Beeline. The TV company, which owns the rights to the 200 MHz frequency band, was reported to have cost the operator $1.8 million. In March 2020, the frequency was re-registered for 4G. According to some reports, the frequency – which should have cost 5 billion Kyrgyz som ($67 million) – was granted to Beeline for just 1,700 som ($22). On 20 May, parliamentary deputy Akaev contended that Abylgaziev had a duty to prove that he had not participated in the scheme. In response, Abylgaziev said that it was he himself who had tasked the State Service to Fight Economic Crimes and Corruption with opening an investigation into the case.
Mukhammedkaliy Abylgaziev has headed the Kyrgyz government since 2018. Prior to this he was head of the country's Social Fund, the state agency in charge of national social insurance and pensions.