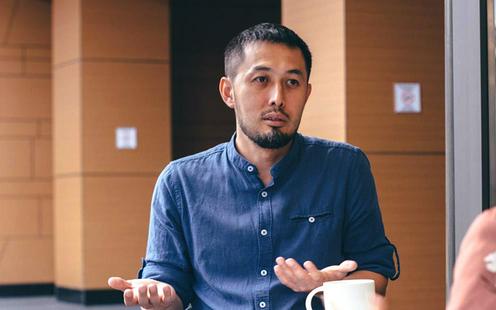 Alnur Ilyashev . Photo from Vlast.kz
Almaty activist Alnur Ilyashev has been sentenced to three years of "restricted freedom", Fergana's correspondent has reported from the Medeu District Court No.2 in Almaty.
Ilyashev was found guilty of knowingly spreading false information during a state of emergency (point 2 part 4 of article 274 of the Kazakh criminal code, carrying a maximum penalty of 7 years in jail).
Under the sentence Ilyashev will have to seek police permission if he wants to relocate. He will also have to carry out 100 hours of community service each of these three years and will be banned from taking part in public activities and from forming or being a member of a political party for 5 years. The judge added that, in passing sentence, she had taken into account the fact that the defendant had a young child in his care and had no prior criminal record.
Ilyashev was originally arrested in April, after which a court sanctioned his detention for a further two months during investigations. The charges against him relate to a video message directed to Nursultan Nazarbaev and Facebook posts about the ruling Nur Otan party. As Mediazona reported in April, on 20 March Ilyashev and eight other activists recorded a joint statement on YouTube in which they called on Nazarbaev to "hand over the property and assets accumulated over many years" to an assistance fund for the Kazakh public and "go into well-deserved retirement". The prosecution contended that the video contained "knowingly false information discrediting the leadership of the Republic of Kazakhstan and calls to step down from a position of authority".
Charges were also brought against him in relation to two later Facebook posts. On 26 March, commenting on the news that businessmen had responded to Nazarbaev's appeals by donating $41m to the anti-crisis social fund Birgemiz, Ilyashev wrote "The mountain has given birth to a mouse" (i.e. the donated funds represented a negligible fraction of the Kazakh elite's wealth). Another Facebook post about the arrest of a regional akim together with the local Nur Otan party leader began with the line: "Nur Otan – 'A party of crooks and thieves?!'". Both posts were considered to represent attempts to spread knowingly false information which could lead to "the formation of a negative public opinion" about Nur Otan and possible "violations of public order under a state of emergency".
The state of emergency on account of the coronavirus in Kazakhstan was introduced on 16 March and brought to an end on 11 May.
"The charges against you have been found to be justified," the judge said while pronouncing sentence. "There was heated public discussion of your posts and negative appraisals, in connection with which the court has ruled that your actions constitute a crime, with the presence of mitigating circumstances."
"Maybe I can just stay in jail? You've already taken everything away from me," Olyashev answered. The judge then reminded him that the court could easily replace the sentence with real jail time.
Human Rights Watch had recently called for the Kazakh authorities to drop the charges against both Ilyashev and fellow activist Asia Tulesova, accused of "violence against a public official" after she knocked a police officer's cap off during a demonstration on 6 June.