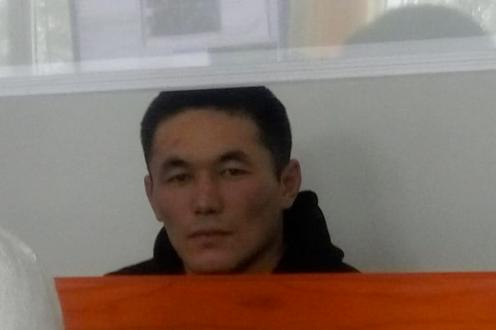 Tlek Tabarak. Photo from Azattyq.org
Zharkent City Court has allowed Tlek Tabarak, an ethnic Kazakh who fled to Kazakhstan from Xinjiang and was charged with illegally crossing the border, to remain in Kazakhstan, in spite of the state prosecutor's petition to have him expelled from the country, Radio Liberty's Kazakh website Azattyk reports.
The verdict was announced on 16 January. Judge Dinara Kuykabayeva found Tlek Tabarak guilty of violating article 392 of the Criminal Code ("Intentionally crossing the state border of the Republic of Kazakhstan") and sentenced him to six months in a minimum security jail without expulsion from the country.
State prosecutor Azamat Baysarov had requested a sentence of six months of restricted liberty and expulsion from Kazakhstan for a five-year period. The man's lawyer had asked for a three-month jail term without deportation to China.
The judge ordered that time already served by the defendant while awaiting trial – since 22 October 2019 – was to be deducted from the sentence at a ratio of two days for each day served, such that, as the judge explained, at the time of sentencing, the defendant's jail term had just been completed.
Tabarak was also ordered to pay a fine of 25,000 Tenge (around $65). In pronouncing her sentence, the judge took note of a number of extenuating circumstances: the absence of a previous criminal record, the defendant's possession of a still-valid residency permit in Kazakhstan, as well as the fact that the man's parents are Kazakh citizens. "He would be separated from his parents, if he were to be expelled from the country," the judge observed.
The verdict was met with applause and expressions of gratitude towards the judge. Defence lawyer Abdulla Bakbergen described the sentence as "just", saying that "Tlek would face the death penalty if he was returned to China".
According to the indictment, Tlek Tabarak "illegally" crossed the Kazakh-Chinese border through the Khorgos customs checkpoint in May 2018. In December 2017, he had travelled to China in order "to learn the tyre-fitting trade", but was unable to return as his documents were confiscated in China. For a period of five and a half months he lived with his brother and then decided to flee because, he said, in China he risked being sent to a camp.
"I thought about turning myself in, but then I was arrested in Karaganda and sent to Zharkent," Tabarak recounted during the trial. Police arrested him at the end of October when he was planning to apply for Kazakh citizenship.
Tlek Tabarak's mother Aysa Nasikhankyzy said that for the last year her other son has been unable to leave Xinjiang for Kazakhstan. According to her, his passport has also been confiscated by the Chinese authorities.
In August 2018, a Kazakh court allowed ethnic Kazakh Sayragul Sauytbay, who had also fled China, to remain in the country. It is on the basis of her testimony that the repression of Uyghurs, Kazakhs, Kyrgyz and members of other indigenous communities in Xinjiang became known to the general public. Having been denied asylum in Kazakhstan, Sauytbay flew with her family to Sweden in June 2019.