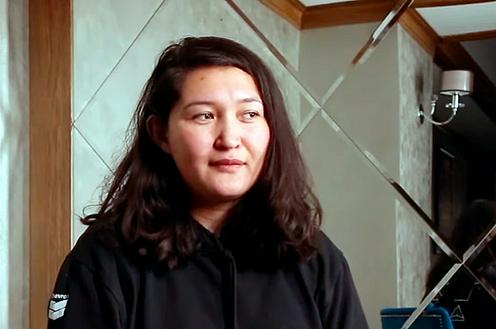 Asya Tulesova . Photo from Amnesty.org
An Almaty court has sentenced civil society activist Asya Tulesova to one and a half years of restricted freedom. She has also been ordered to pay a fine of 55,560 tenge ($133), Tengrinews writes (in Russian).
Tulesova was arrested on 8 June after her altercation with a police officer at a demonstration two days previously was captured on video.
Medeu District Court found Tulesova guilty of using force against a public servant and insulting him. Presiding judge Taken Shakirov concluded that the well-known activist had "conducted herself extremely aggressively" at the 6 June demonstration. "She deliberately struck an assistant of the district police inspector with her hands in the region of the head and right shoulder, struck a second police officer on his cap, and inflicted three blows to a third victim in the region of the right shoulder and back, all the while shouting offensive words against a police officer," the judge said.
Shakirov said that the prosecutor had sought a one-year jail term for Tulesova, but given that this was her first criminal offence and that she had apologised to those involved, there were no aggravating circumstances present. For this reason he decided to apply a non-custodial sentence.
Asya Tulesova is a well-known environmental activist. In April 2019, together with fellow activist Beibarys Tolymbekov, she was sentenced to 15 days administrative arrest for unfurling a banner reading "You can't run from the truth", together with the hashtags #adilsailayushin (#forafairelection) and #уменяестьвыбор (#Ihaveachoice) along the route of the city marathon – references to the presidential elections that were to take place in Kazakhstan that summer. At the start of June 2020, Tulesova sent a letter to the Almaty municipal administration demanding that air pollution be recognised as the city's number one problem.
On 8 June, she was arrested over the altercation with police officers at an unsanctioned demonstration on 6 June and has been in pre-trial custody ever since. Local and international human rights organisations including Human Rights Watch and Amnesty International have previously called for her release.
At the time, Tulesova explained her actions as the result of an emotional outburst against the "inhuman, harsh and unlawful police treatment of peaceful, unarmed citizens who posed no threat to society and had attended a peaceful protest in order to express their peaceful demands".