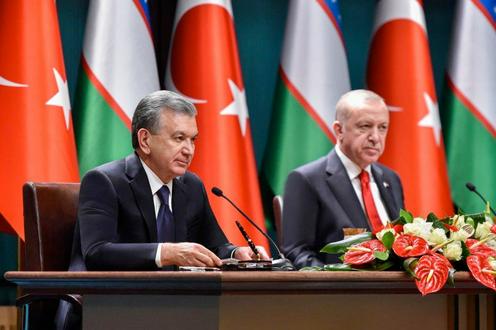 Shavkat Mirziyoyev and Recep Tayyip Erdogan at the press conference in Ankara. Photo by the press office of the president of Uzbekistan
Turkey and Uzbekistan will strive to increase the volume of trade between the two countries to $5 billion. The announcement was made by Turkish president Recep Tayyip Erdogan at a press conference in Ankara following a meeting with his Uzbek counterpart Shavkat Mirziyoyev, Anadolu reports.
"We have exceeded $1 billion in both exports and imports for the first time in bilateral trade relations, but there is still a long way to go," Erdogan said. According to Uzbek state news agency UzA, the total volume of bilateral trade between Turkey and Uzbekistan in 2019 was over $2.5bn.
"We define our relations with Uzbekistan as a strategic partnership based on strong brotherly ties with our common history, language and culture," Erdogan stated, adding that Turkey is ready to support the reform process being carried out by Mirziyoyev.
"We encourage our entrepreneurs to invest in Uzbekistan. According to Uzbek statistics, only last year, 430 Turkish companies started operating in Uzbekistan and the number of our companies there rose to 1,306," the Turkish president declared.
According to UzA, the total number of joint Turkish-Uzbek enterprises stands at 1,600. Investment projects to a total of over $500m are being carried out in partnership with Turkey, whereas three years ago this figure was less than $20m.
In his statement, reported by the Uzbek presidential press office, Shavkat Mirziyoyev announced that Uzbekistan is currently working with leading Turkish companies to draw up more than a billion dollars' worth of new projects.
The two countries' leaders signed a joint declaration following the first session of the Uzbek-Turkish High-Level Strategic Cooperation Council. Mirziyoyev declared that the session "opened a new chapter in the history of friendly relations between the two nations".
President Mirziyoyev's official visit to Turkey began on 19 February and will last for two days. On 20 February, he is scheduled to meet with the heads of a number of major Turkish companies and to participate in the opening ceremony for the new Presidential Library of the Turkish Republic.
This is seventh meeting between the two countries' leaders in the last three years. Shavkat Mirziyoyev's last visit to Turkey took place at the end of October 2016, and Recep Erdogan visited Uzbekistan in April 2018.