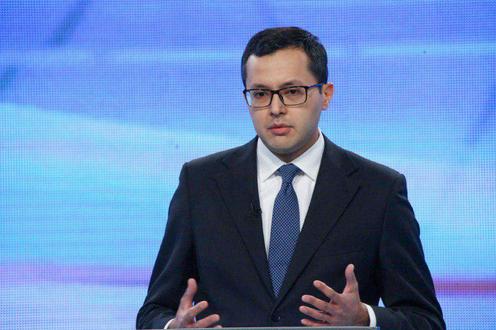 Timur Ishmetov . Photo from kun.uz
A ministerial reshuffle has been carried out in the economic sphere in Uzbekistan. Timur Ishmetov, deputy head of the Ministry of Finance, will now head the ministry in place of Jamshid Kuchkarov, and Kuchkarov has been appointed the country's new Minister of Economy and Industry, Kun.uz, Spot and Gazeta.uz write (in Russian), citing sources inside the government.
Despite switching ministerial roles, Jamshid Kuchkarov is to retain the position of deputy prime minister. The reshuffle was announced during a video conference chaired by Prime Minister Abdulla Aripov.
Botir Khojayev, who has headed the Ministry of Economy since 2017 and remained its head when it was converted into the Ministry of Economy and Industry in 2019, has been appointed adviser to the prime minister on questions of industry and cooperation, in place of Chairman of the Board of Uzagrotechsanoatholding Nodir Otajonov, who left the post yesterday.
Timur Ishmetov, who studied at Birmingham in the UK, occupied various positions at the Central Bank of Uzbekistan between 2000 and 2019, and was appointed deputy finance minister in May 2019.
Jamshid Kuchkarov studied at Colorado in the USA before working in banking and finance. He took over the finance ministry in 2017 following the retirement of Rustam Azimov. In October 2019, the editorial board of Global Markets declared Kuchkarov their "Finance Minister of 2019, Central and Eastern Europe (including CIS)", writing that he had been "a steady hand on the tiller during what has been one of the most rapid programmes of economic liberalisations in recent memory", and overseen such important reforms as the liberalisation of the currency markets, the lightening of trade restrictions and the country's entrance onto the international bond market.