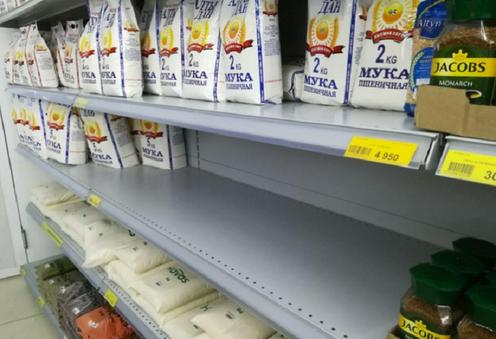 An empty shelf at a Tashkent supermarket. Photo from Podrobno.Uz
Kyrgyzstan and Uzbekistan have introduced price controls and turned to Chinese expertise in a bid to battle the spread of the COVID-19 coronavirus, after the first official cases of the disease were confirmed in the region over the weekend.
As Radio Liberty's Kyrgyz service Azattyk writes (in Russian), the Kyrgyz government is to introduce maximum prices on "essential goods". Kyrgyz prime minister Mukhammedkalyi Abylgaziyev announced that the country's Antimonopoly Agency would later today set maximum prices for flour, bread, sugar, cooking oil and seven other goods. Abylgaziyev explained that "We must take steps to prevent any actions spreading panic among the public".
Panic-buying has been observed in Kyrgyz stores and markets over the weekend. Following police raids, criminal charges have been filed for two cases of profiteering. First Deputy Prime Minister Erkin Asrandiyev sought to calm fears: "There is no shortage of goods in the country. Kazakhstan has declared a national emergency, but the restrictions on border transit hold only for people. Food products and other essential items are still allowed through."
Similar scenes have been reported in Uzbekistan following the announcement of the first cases of the virus there yesterday. As Podrobno.uz reports (in Russian), people in Tashkent have been panic-buying toilet paper, antiseptics, flour, grains, pasta and sunflower oil. In response, the State Tax Committee has set up special teams to conduct price checks in every city and district around the country. Committee head Bekhzod Musayev appealed to the public to purchase goods in normal amounts, adding that there is no risk of any shortages at present but that if panic-buying continues then it could provoke shortages and price increases.
Both countries are to call in Chinese help to fight the virus, it was announced today. Uzbek state news agency UzA (in Russian) that arrangements have been made to fly in two charter planes of specialist doctors from China. KaktusMedia (also in Russian) that the Security Council of Kyrgyzstan has ordered the country's foreign and health ministries to ask China for assistance.
Meanwhile, in a televised address to the public regarding the recent declaration of a national emergency, Kazakh president Kassym-Jomart Tokayev promised to free up at least $740 million to support local businesses and create new jobs in connection with the combined crisis of the coronavirus and the recent global oil shock.
The latest measures by Central Asian governments come as Uzbekistan has reported a rise in the number of cases of the virus to 6 and Kazakhstan to 9. Tajikistan, Turkmenistan and Kyrgyzstan are yet to officially confirm any cases. Previously, Kazakhstan, Kyrgyzstan and Uzbekistan have closed schools and universities and canceled all major public events. Kazakhstan and Uzbekistan have also temporarily closed their borders.
Tajikistan recently withdrew an extension of its ban on entry to a further 35 countries almost immediately after its proclamation, though the country has banned Friday prayers at mosques. It has just been reported that Uzbekistan has done the same.
Despite the absence of any officially confirmed cases, there have long been reports (here and here) of coronavirus infections in Turkmenistan.
The country, which shares a long border with heavily-affected Iran, has had at least three of its four borders closed for weeks already, and is refusing entry to citizens of countries that have reported cases of the virus. Turkmen citizens have also been banned from travelling to a number of countries. All international flights into the capital Ashgabat are being redirected to Turkmenabad, where quarantine camps have been constructed. Turkmen president Berdymukhamedov, who (among his roughly 40 books on various topics) has authored a work on "The Medicinal Herbs of Turkmenistan", has ordered the use of harmala smoke to protect against the infection.