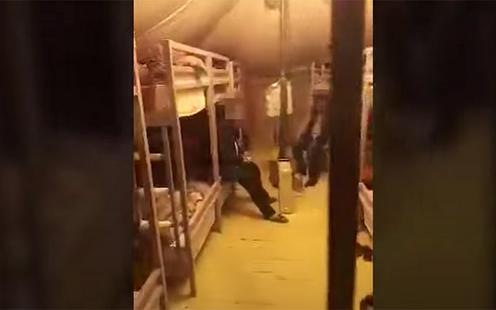 People in a quarantine tent in Turkmenistan. Still image from the amateur video recording on Hronikatm.com
News outlet Chronicles of Turkmenistan has reported seven cases of coronavirus infections in the country's special quarantine zone in the Turkmen city of Turkmenabad, citing its own sources.
This is not the first time an independent media outlet has claimed that, in contrast to the official state version, the country does in fact have cases of coronavirus. It has not been possible to check the veracity of any of their assertions. The latest claims, however, are certainly very detailed. The report includes a video recording from inside a tent in a quarantine camp, made by one of those placed in quarantine there. Chronicles' journalists also cite doctors who have been in direct contact with the infected patients.
According to the outlet's sources, seven individuals who have returned positive test results for COVID-19 are being housed in a separate tent in the quarantine zone. The tent is cordoned off and has a separate entrance, at which municipal disease control workers carry out the decontamination of medical staff. To treat the patients, H1N1 vaccines from the swine flu epidemic are being used, as well as oxygen masks.
The Turkmenabad quarantine zone is located opposite the city's hippodrome and surrounded by watchtowers. Doctors working inside the zone complain that they are being made to obtain masks and gloves at their own expense.
According to the country's official media, Turkmenistan is one of around 20 countries in the world still unaffected by COVID-19. Time and again, the pro-government media reiterate that this is the result of the timely introduction of quarantine measures. The official media, however, provide very few details about what these measures are. Independent media reports contain scattered accounts of various government measures, many of which are either unscientific (such as fumigating buildings with harmala smoke) or insufficient (such as simply limiting the number of guests at family celebrations to 200 rather than a total ban). It was also reported today that mass testing for COVID-19 has begun at Turkmen schools.