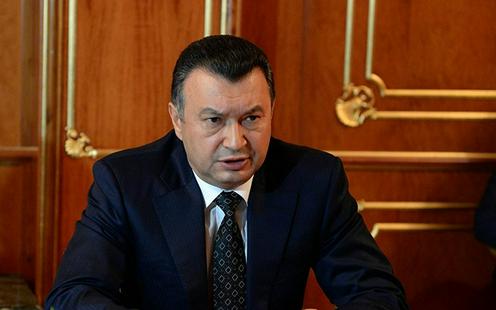 Kohir Rasulzoda . Photo from President.kg
Tajikistan has confirmed its first cases of COVID-19. The announcement was made today at an emergency meeting of the country's special team charged with preventing the spread of the coronavirus, chaired by Prime Minister Kohir Rasulzoda. The details of the session were reported by news agency Khovar (in Tajik).
According to official information, there are currently 15 people with confirmed infections in Tajikistan – ten in Khujand and five in Dushanbe. More than 2,000 people with symptoms of the illness are currently under observation in hospitals around the country.
A decision was also made at the meeting to make wearing face masks obligatory across the country. From 4 May, first-, second- and third-year university students will be put on vacation. Final-year examinations are to be completed by 15 May.
Until now, Tajikistan was one of a handful of countries around the world (most of them isolated Pacific Ocean island states, as well as North Korea and Turkmenistan) with no official cases of COVID-19. From the start of April, however, there have been reports of increasing numbers of pneumonia patients in the country. Previously the authorities have attributed this to "unfavourable weather conditions".
At the same time, however, the government has already closed all schools and kindergartens from 27 April until 10 May and major work has been undertaken to disinfect streets, parks and offices. Large-scale public events such as sports events and public meetings have been banned and mosques, cinemas and theatres closed.
Previous stories of pneumonia infections, meanwhile, will lead to questions about just how widespread the virus is in the country. In other countries where testing has been low (such as Japan), frequent reports of famous people and politicians falling ill with the virus suggest that true infection figures are many, many times higher than the official statistics. In Tajikistan, there have been repeated stories in recent weeks of government officials and famous figures such as writers being hospitalised with pneumonia. Earlier today, for instance, the wife of the famous Tajik writer Muhiddin Khojazoda, himself in intensive care with pneumonia and connected to a ventilator, passed away from the illness. His son and daughter are both in hospital with high temperatures. The director of one Dushanbe clinic wrote on Facebook today that several employees at the clinic have fallen ill "with an infection that is spreading around the country".