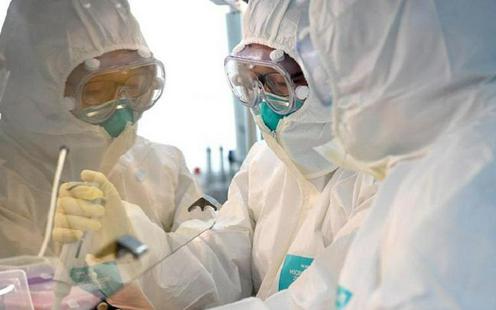 Kazakh healthcare workers . Photo from Coronavirus2020.kz
The head of the European regional office of the World Health Organisation, Hans Kluge, has praised Kazakhstan's work to combat the spread of the coronavirus in a post on Twitter.
"Kazakhstan (is) a great example of proactive efforts to stabilize COVID-19," Kluge wrote. He then listed the factors that have allowed the country to ward off the epidemic: "Strong surveillance, extensive testing, including Health Workers, digitalized data collection, timely prevention & intensified contact tracing, treating patients appropriately, research."
The first country in Central Asia to report cases of COVID-19 (back on 13 March), to date Kazakhstan has had 5,417 confirmed infections and 32 deaths. From 16 March to 11 May, the country has been under a state of emergency with extensive lockdowns in place in major cities.
As in neighbouring Uzbekistan and Kyrgyzstan, successful Kazakh measures have included early border closures, a two-week quarantine at special facilities for those returning from abroad and, often, the quarantining of entire apartment blocks after one resident tests positive, as well as active contact tracing. Some of these early quarantine measures have been described in detail in an article by Bagdat Asylbek on our Russian site (which we hope to translate soon; for similar measures in Uzbekistan, see an earlier Russian article by RFE/RL's Uzbek service Ozodlik). Kazakhstan's chief medical officer recently ordered that all people entering Kazakhstan from abroad be placed at a quarantine facility for 48 hours while awaiting coronavirus test results.
At the start of April, Kazakhstan became the first Central Asian country to manufacture its own coronavirus test kits. To date, the country has carried out 440,000 tests, or 23,400 per million inhabitants, by far the highest testing rate in the region (Uzbekistan and Kyrgyzstan are both a little below 10,000 tests per million, Tajikistan has only carried out 7,700 tests in total; for comparison the US and the UK are on 30,000 per million, and France 21,000 per million).
Kazakhstan's battle with COVID-19 has not been all success, however. As earlier reported, rates of infection among healthcare workers, especially in Almaty, have been concerning. At one point, 55% of Almaty's nearly 700 cases were among medical professionals, including 263 at one hospital alone.
Earlier this week, President Qasym-Zhomart Toqaev declared that the epidemic has not been entirely defeated but that the lockdown would be gradually relaxed according to the improving situation in each region.