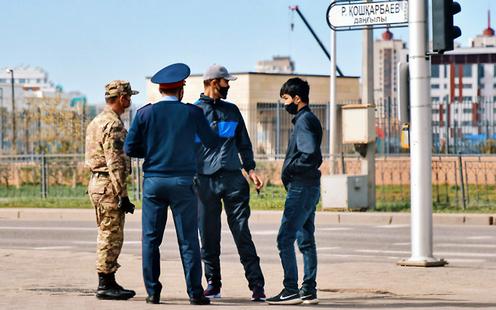 On the street in Nur-Sultan. Photo from Tengrinews.kz
Nur-Sultan akim (mayor) Altay Kulginov has threatened residents of the Kazakh capital with a return to strict lockdown measures. Kulginov posted his warning on his Instagram page following observations made during a walk around the city.
"Some residents are walking around without masks, failing to observe social distancing, and violating safety rules. I would like to point out that the end of the state of emergency does not mean that the lockdown too has come to an end. The risk of spreading the coronavirus still remains. We have shut down a number of premises for violations of sanitary regulations, including construction companies, cafés and restaurants.
"We have also sharpened rules for the use of public transport. It is not permitted to travel on public transport without a face mask. If this is how people are going to act in a "relaxed" lockdown regime, then we may have to revert to the previous strict lockdown regime. I urge all residents to act in the current circumstances with full responsibility and understanding," Kulginov wrote.
Since the end of the state of emergency in Kazakhstan last week and the beginning of steps to ease the country's extensive lockdown measures, the authorities have been at pains to distinguish between lockdown measures and the state of emergency and to warn the public to stick to existing lockdown rules. Yesterday, President Qasym-Zhomart Toqaev took to Twitter to urge Kazakhs to continue to follow precautionary measures, especially in public, having earlier warned that a failure to do so could lead to a second wave of COVID-19 in the country.
Justifying moves to gradually relax the lockdown, the government has been referring to the "positive dynamic" in infection statistics, and Kazakhstan's approach has indeed been praised recently by the WHO. The total number of active COVID-19 cases in the country began to fall on 8 May, but it has now risen for three days in a row. Declines in active cases set in even earlier in Kyrgyzstan and Uzbekistan, but there too the declines have been arrested or reversed recently as cautious lockdown exit strategies have begun to be implemented. Given the low number of new cases per day and the high proportion of people arriving from abroad in these two countries' statistics, however, it is too early to draw any clear link.
As in Uzbekistan, the Kazakh authorities are taking a differentiated approach to the easing of lockdown measures. While some regulations in Almaty, Nur-Sultan and other areas with a "positive dynamic" have been relaxed, other cities such as Semey have seen strict measures extended.
As of 19 May, Kazakhstan has recorded 6,751 coronavirus infections and 35 deaths – by far the highest number of official cases in the region, though it was recently overtaken in fatalities by Tajikistan.