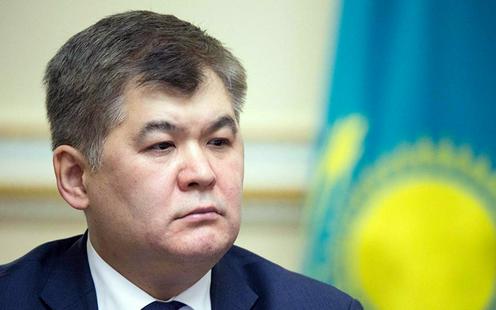 Yelzhan Birtanov . Photo from Vkurse.kz
Kazakh health minister Yelzhan Birtanov has been diagnosed with pneumonia. Doctors have assessed his condition as being at a moderate level of severity (средняя степень тяжести), health ministry spokesman Dias Akhmetsharip has announced, according to Vlast.kz (in Russian).
Birtanov has been hospitalised at an infectious diseases hospital. "He is receiving treatment according to medical protocol and is responding quite well. From hospital he is continuing to coordinate all efforts in the fight against the coronavirus infection," Akhmetsharip said.
He added that, as of 16 June, Birtanov's deputy Lyazzat Aktaeva will take over temporarily as acting health minister.
That Birtanov had tested positive for COVID-19 was first reported on 14 June. Following the announcement, Kazakh prime minister Askar Mamin and the head of the Jambyl regional administration, along with a number of other officials, have been forced to self-isolate after accompanying Birtanov on a recent trip, though their initial coronavirus tests have all come back negative.
To date, Kazakhstan has reported 15,192 cases of COVID-19 and 81 deaths. As previously reported, however, the country has stopped including asymptomatic cases in its official tally, and is excluding fatalities where the virus is adjudged not to have played a significant role in death. In both of these practices it is following a precedent set by Russia.