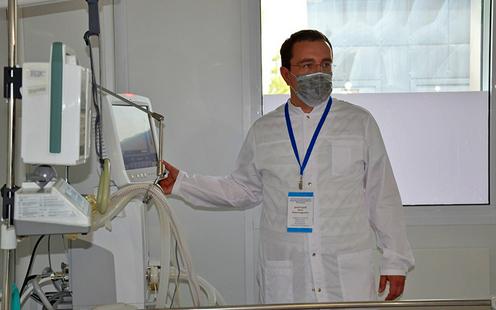 At the main infectious diseases centre in Nur-Sultan . Photo from Astana.gov.kz
90% of hospital beds at Nur-Sultan's permanent and temporary infectious diseases hospitals are full and may soon be insufficient to meet demand, the head of the municipal public health department, Saule Kisikova, announced at a press conference today.
"If at the start of the year, each day on average 5 patients were admitted to hospital with pneumonia, since the start of June, on average 500 people a day are coming in, half of them with viral pneumonia and 90% of these with a moderately severe or severe condition," Kisikova said.
"If members of the public continue to act so carelessly, then we will not have enough doctors and beds," the health department head warned. "We have 3,500 doctors and 8,000 medical staff for a population of 1.2 million people. If there is a mass outbreak due to failure to observe sanitary regulations then not everyone is going to receive help in time."
At the same press conference, Kisikova stated that there was currently a great strain on the city's eight coronavirus test laboratories and appealed to people not to test themselves unless they have symptoms or have been in contact with confirmed cases.
Kisikova's warning comes as Kazakh parliamentary deputies have called on the government to reintroduce stricter lockdown measures across the country. The MPs said that they have been receiving complaints from around the country about hospitals refusing to admit patients, cancelled medical procedures, overfull temporary hospitals and shortages of PPE for medical workers.
"The Health Ministry's assurances that 'on average around the country' there are sufficient beds and protective equipment cannot be taken seriously, because officials merely cite statistics while real people are coming up against concrete situations. (...) A large proportion of complaints are about an insufficient supply of coronavirus tests, even despite the prohibitive 15,000 tenge ($37) cost when many people have been living without an income for the last three months. Even in Nur-Sultan you have to wait for a test for a minimum of two days, and there are delays in receiving results; similar reports of queues are coming in from Almaty, Shymkent, Pavlodar, East Kazakhstan region and Turkestan," MP Meruert Kazbekova cited the text of the deputies' interpellation.
Kazakhstan has seen a sustained rise in COVID-19 cases since around the middle of May. Since the start of June, asymptomatic cases are no longer included in the country's overall statistics. Officially these are said to constitute around 40% of all infections, though in recent statistics they have accounted for around 60-70% (there will be a lag due to the fact that some of those who are asymptomatic at the time of testing will later go on to develop symptoms). Despite this, recent days' tallies are almost at the same level as before the change in counting methods was introduced. While the official record for daily infections is 476 on 31 March, on 13 June 989 symptomatic and asymptomatic infections were recorded, though only 366 made it into the official statistics. Today (17 June), 1,023 total infections were recorded, only 350 of which were symptomatic.
Kazakhstan's health minister was recently hospitalised with COVID-19 and today the speaker of the Kazakh parliament also tested positive.
Following a common refrain in Kazakhstan at the moment, the deputies put a large part of the blame for rising cases on "the actions of the public themselves, who are ignoring safety demands". At the same time, they criticised health ministry and regional administrations for shortcomings in coordinating the fight against the virus, despite $300 million of funds being set aside and the possibility to draw on the experiences of the past few months.
When the first COVID-19 cases were detected in the county in mid-March, Kazakhstan declared a state of emergency and quickly introduced sweeping lockdown measures. From the middle of May, however, these measures have been gradually relaxed – checkpoints around most major cities and between regions have been dismantled, domestic travel and flights have been resumed, and service sector companies have reopened. In recent days a number of regions have sharpened lockdown measures once again following a rise in infections.
With 15,542 confirmed cases (plus over 6,000 recorded asymptomatic infections) Kazakhstan has the highest number of COVID-19 cases in Central Asia. Testing in Kazakhstan is, however, significantly higher than in other Central Asian countries.