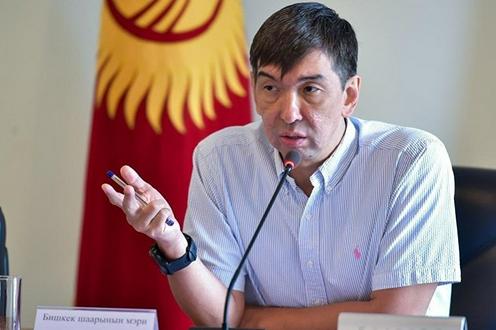 Bishkek mayor Aziz Surakmatov . Photo from Sputnik Kyrgyzstan
Bishkek mayor Aziz Surakmatov has been diagnosed with the coronavirus and is now self-isolating at home, 24.kg reports (in Russian) citing the Bishkek administration's press office.
The press office announced that Surakmatov's PCR test had come back positive but that the mayor currently has a mild form of the illness. Surakmatov himself said that he feels fine but has a slightly raised temperature. He is currently under medical observation and will continue to work from home.
Only yesterday it was reported that several other Bishkek administration employees had tested positive for COVID-19 and that Surakmetov was therefore not permitted to take part in a Security Council meeting chaired by President Jeenbekov. On the same day, the Kyrgyz public reacted angrily to a group photo of the entire Kyrgyz government and government office employees standing tightly together with only one person wearing a face mask. Jeenbekov has ordered all government ministers and department heads to be fined.
As in Kazakhstan and Uzbekistan, COVID-19 cases in Kyrgyzstan have been on the rise in recent days and weeks as all three countries emerge from major lockdowns. While the country's previous daily record for new cases was 78, this figure has been exceeded every day for the last week, including 132 cases yesterday and (at the time of writing, early evening Bishkek time 20 June) 192 so far today.
At the same time, Surakmatov is far from the first significant Central Asian official to test positive for the coronavirus this last week. In Kazakhstan such figures include the country's first president and "Leader of the Nation" Nursultan Nazarbaev, as well as the country's health minister and the speaker of parliament. A little earlier this month President Toqaev's press secretary was also diagnosed with the virus.