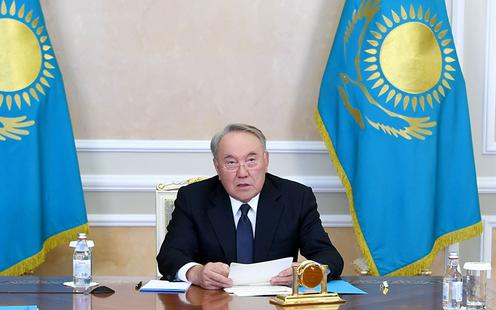 Nursultan Nazarbaev . Photo from Elbasy.kz
Kazakhstan's first president and "Leader of the Nation" (Elbasy), Nursultan Nazarbaev, has tested positive for the coronavirus, it has been announced on the Elbasy website (in Russian).
The announcement stated that the former head of state is currently self-isolating. "There is no cause for concern. Nursultan Nazarbaev continues to work remotely," it adds. There is no mention as to whether the Nazarbaev has any symptoms of the virus or whether he is currently asymptomatic. Commenting the news, Nazarbaev's press secretary, Aidos Ukibay, said that Nazarbaev – who will be 80 next month – had maintained a busy schedule since the start of June, meeting with a number of officials and journalists.
Cases of COVID-19 have been rising in Kazakhstan in recent weeks amid a general relaxation of previously stringent lockdown measures. In recent days several key state officials have been infected. On 14 June it was announced that the country's health minister, Yelzhan Birtanov has been hospitalised with the virus, and he was later diagnosed with pneumonia. Prime Minister Askar Mamin, Jambyl region head Berdibek Saparbaev and a number of other officials who had been in close contact with Birtanov have been forced to self-isolate (though initial tests came back negative). On 17 June it emerged that Mazhilis (parliament) speaker Nurlan Nigmatulin had also tested positive for the virus. President Qasym-Zhomart Toqaev's press secretary, Berik Uali, was confirmed to have the virus earlier this month. Today, Kazakhstan's deputy prime minister, Yeraly Tugzhanov, has also been diagnosed with COVID-19.
Yesterday the authorities in the capital Nur-Sultan warned that hospitals there were at 90% capacity and a group of Kazakh deputies called on the government to reintroduce nationwide lockdown measures. Today an interdepartmental government commission has ordered a temporary sharpening of lockdown measures in the country's major cities over the weekend of 20-21 June. In Nur-Sultan, Almaty, Karaganda, Shymkent, Pavlodar and Ekibastuz, shopping centres, retail chain stores, covered food and non-food markets and bazaars will be closed. Only outdoor seating areas in cafés and restaurants will be permitted to open, while being required to ensure social distancing. Public transport will be suspended and parks, squares, embankments, beaches, waterparks and fitness centres closed. Those over 65 will be required to stay at home. New visitors will not be accepted at tourism zones adjacent to these cities.
Parks, squares, embankments and waterparks in towns with a population of over 50,000 people will also be closed and people over 65 required to stay at home.
The Prime Minister also ordered regional heads to quickly ramp up PCR testing among the population, open new testing laboratories and increase the number of beds in permanent and temporary hospital facilities.
At present Kazakhstan's official figure for coronavirus infections stands at 15,877, with 97 deaths, though since the start of June the authorities are no longer adding asymptomatic cases to the official tally. They are also only counting fatalities where COVID-19 is adjudged to have been the principal cause of death. In recent days symptomatic and asymptomatic cases have been rising at the rate of about 1,000 new infections per day.