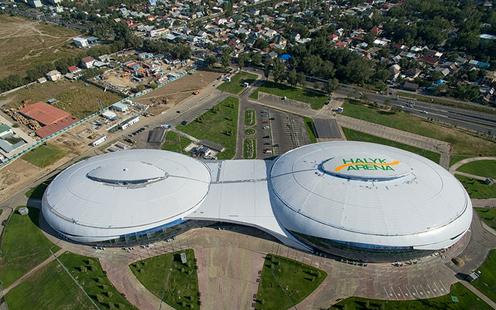 The Halyk Arena in Almaty Photo from Olympic.kz. Photo from Olympic.kz
The authorities in Almaty are considering the option of turning the city's sports stadiums Halyk Arena and Almaty Arena into temporary hospitals to deal with the upsurge in coronavirus patients, the head of the municipal health department Kamalzhan Nadyrov has announced at a press conference.
"Given the increase in admissions to the city's hospitals there is now a shortage of beds. Temporary bed capacity is currently 90% occupied, and 95% occupied at infectious diseases hospitals," Nadyrov stated. The health department head said that the municipal authorities are looking into setting up 500 additional beds at the Halyk Arena stadium, and if the situation continues to worsen a further 300 beds could be added there and at the Almaty Arena. This would bring the total capacity to 3,700 infectious diseases beds.
The health department will also look into the possibility of setting up extra beds in dormitories, Nadyrov added.
The news of bed shortages in Almaty follows a similar announcement from the capital Nur-Sultan last week. Yesterday the authorities there stated that the city's hospitals will now only be taking in emergency cases and COVID-19 patients in order to preserve capacity.
The concerns over hospital capacity come as Kazakhstan set a new record for daily infections yesterday (22 June). Officially, 507 new cases were reported for the 24 hours leading up to the morning of 22 June, but Kazakhstan is no longer including asymptomatic infections in its official totals. The true total number of recorded infections on that day including asymptomatic cases was 1,471 (RFE/RL's Kazakh website Azattyq is keeping a regular count of total cases, based on health ministry reports of daily asymptomatic infections). Recent daily rises of 1,300-1,400 mark a significant rise from the roughly 400 daily new cases that were being reported in the country at the start of the month.
Six Kazakh cities, including Almaty and Nur-Sultan, temporarily reapplied a lockdown over the weekend in an effort to hold back the rise in cases. Meanwhile a number of key Kazakh officials, including Nursultan Nazarbaev and health minister Yelzhan Birtanov, tested positive for the virus last week. Yesterday they were joined by the akims (administration heads) of the Turkestan and Almaty regions.
Kyrgyzstan also announced a new record daily case rise yesterday, albeit at a lower level of 205. Recent daily rises around the 200 mark, however, also represent a significant increase on the 20-40 new cases being reported daily at the start of this month. First Deputy Prime Minister Almazbek Batyrbekov stated yesterday that the government was working to extend the number of beds at all hospital facilities around the country, including by expanding capacity at the former US air base near Manas international airport, part of which is already used as a quarantine facility for Kyrgyz citizens returning from abroad.
The precipitous rise in infections in both Kyrgyzstan and Kazakhstan are clearly visible from graphs showing daily new cases. It should, of course, be noted that the apparent dip in cases at the start of June was due to the exclusion of asymptomatic cases from that point; total cases from this time including asymptomatic infections have been about three times those shown on the graph.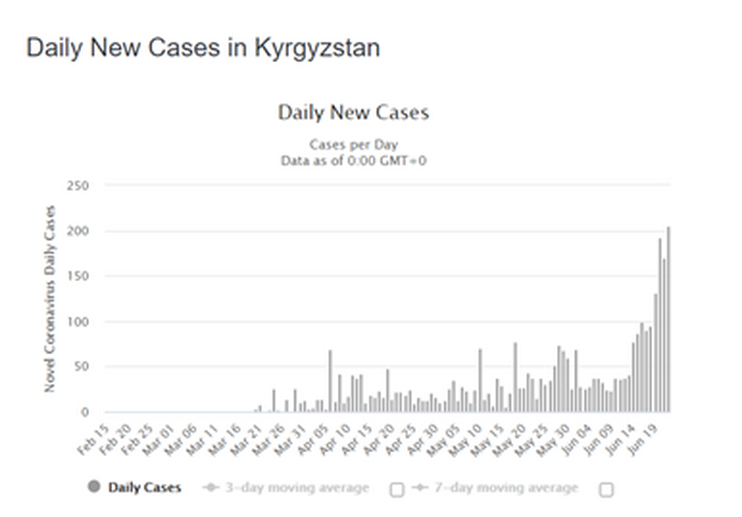 Chart showing daily case rises in Kyrgyzstan . From worldometers.info/coronavirus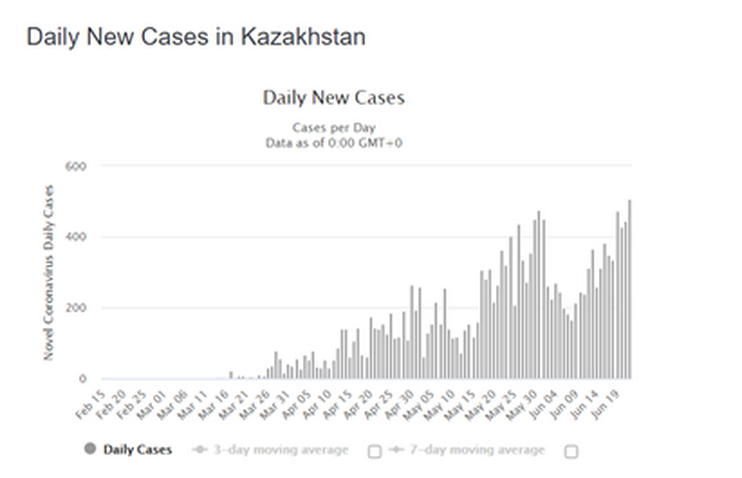 Chart showing daily case rises in Kazakhstan. From worldometers.info/coronavirus
State TV in both Kazakhstan and Kyrgyzstan have been blaming the rise in cases on public carelessness and criticising apparent widespread belief that the threat from the virus is being exaggerated or even made up. They have also been reporting a rise in severe cases of COVID-19 and putting this down to efforts at samolechenie – attempts at self-cure – resulting in people seeking medical attention only when they are already seriously ill.
In Uzbekistan a large proportion of the daily rises are still coming from those already in quarantine facilities, but cases among the wider public are becoming more frequent, especially in Tashkent. 71 Tashkent mahallas were recently designated "red" zones (i.e. deemed dangerous in terms of spread risk). Checkpoints have been set up on roads into and out of these areas, residents are recommended to leave home only to buy food or medication, and the houses of those who have been placed in home quarantine there will be under 24-hour guard. The Uzbek special coronavirus commission has also announced that it will now require all supermarkets and large stores to set up hand disinfectant dispensers at their entrances and distribute plastic gloves to their customers. They will also be obliged to check customers' temperatures and refuse entry to those with a high temperatures, as well as ensure that customers wear face masks and maintain a social distance.
As of 24 June, private clinics in Uzbekistan will be permitted to conduct PCR tests for COVID-19 after receiving permission from the local authorities. There have previously been reports of long queues outside of local sanitary-epidemiological services' offices of people requiring certification that they are free from the virus in order to take up work, to have an operation, or even to send their children to summer camps. Queues are said to begin building outside of some offices as early as 4 am.
According to data from the Uzbek health ministry, over one million coronavirus tests have been conducted in the country to date. In recent days, 16-17,000 tests have been carried out each day, marking a significant rise compared to earlier. Kazakhstan remains regional leader in terms of testing, with 28,000 tests reportedly being conducted per day, with plans to increase to 30,000 per day by the end of this week.