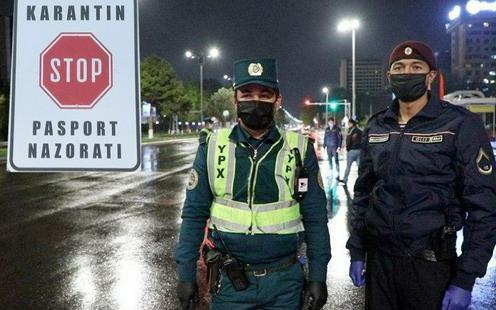 Photo from libb.uz
71 mahallas (city quarters) in the Uzbek capital Tashkent have been designated "red" zones in terms of coronavirus spread risk and placed in quarantine, with no one allowed in or out, an announcement on Tashkent police department's website (in Russian) stated yesterday.
Checkpoints have been set up on roads into the "red" mahallas, manned by police officers, members of the national guard and employees of the sanitary-epidemiological inspection service. A number of major shopping centres and markets have also been temporarily closed.
Residents in the country's designated red zones are recommended not to leave their homes unless strictly necessary – to purchase food and medication – and then only one family member at a time. Those who leave their homes must wear a face mask.
Following early border closures and extensive lockdowns and quarantining efforts, Uzbekistan's COVID-19 tally (5,855) has remained surprisingly low to date, but infections detected in the community (rather than among those already in quarantine) have started to grow since lockdown measures began to be lifted. At a government meeting recently, Uzbek president Shavkat Mirziyoyev acknowledged that the coronavirus situation in the country "is taking on a more serious character" and that "the time has come for a significant strengthening of vigilance and responsibility in the fight against the pandemic". Uzbekistan has now decided to follow Kazakhstan in no longer hospitalising asymptomatic coronavirus patients or those with mild symptoms, suggesting awareness of an approaching need to redirect resources to more serious cases.
The situation with community spread in Uzbekistan, however, appears far less serious than in Kazakhstan. The majority of new infections are still generally being detected among those already in quarantine. On 17 June for instance, health ministry figures state that 169 of 189 new cases came among individuals in quarantine facilities, 13 among the wider population, and 7 among international lorry drivers. Of yesterday's 85 cases, 28 came among the general population.
Testing in Uzbekistan seems to have been increased recently, but it remains lower than Kazakhstan's (respectable, by international standards) levels. There is also far less information available about exactly how this testing is being carried out.