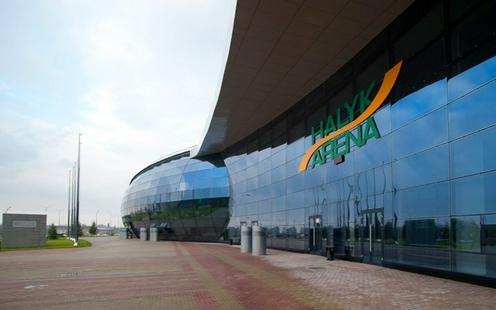 Halyk Arena. Photo from Voxpopuli.kz
From 1 July, the Almaty sports stadium Halyk Arena will be used as an infectious diseases hospital, Forbes.kz writes (in Russian).
Last week it was reported that the municipal authorities were considering converting both Halyk Arena and Almaty Arena into temporary COVID-19 hospitals. Health department head Kamalzhan Nadyrov stated that up to 500 extra beds could be installed at Halyk Arena.
As covered recently, Kazakhstan has seen a sustained rise in coronavirus cases for over a month now, with increasing concerns over hospital capacity. At the end of last week, Kazakhstan was included alongside Kyrgyzstan in a list of 11 countries in the Europe and Central Asia region that the WHO deems to be experiencing a "very significant resurgence" of COVID-19. On Saturday, the country set a new record for daily cases (569) for the third time in a week. Since the start of June, however, Kazakhstan no longer includes asymptomatic cases in its official total, and the number of these is generally almost double that of symptomatic infections. Today, for instance, 547 symptomatic cases were reported and 1,066 asymptomatic, bringing the total number of detected cases in the last 24 hours to 1,613.
RFE/RL's Kazakh service Azattyq is keeping a running total of all confirmed coronavirus cases in the country, which shows that while the official infections tally is currently 21,327, this does not include 16,639 asymptomatic cases, bringing the true total to date to 37,966.
State television has been reporting not only on increasing cases numbers in recent weeks but also a rise in severe cases. Total deaths remain below 200 (though, unlike in many countries, Kazakhstan does not include deaths where COVID-19 is not judged to have played a leading role), but the sharp rise in fatalities is visible in the graph below.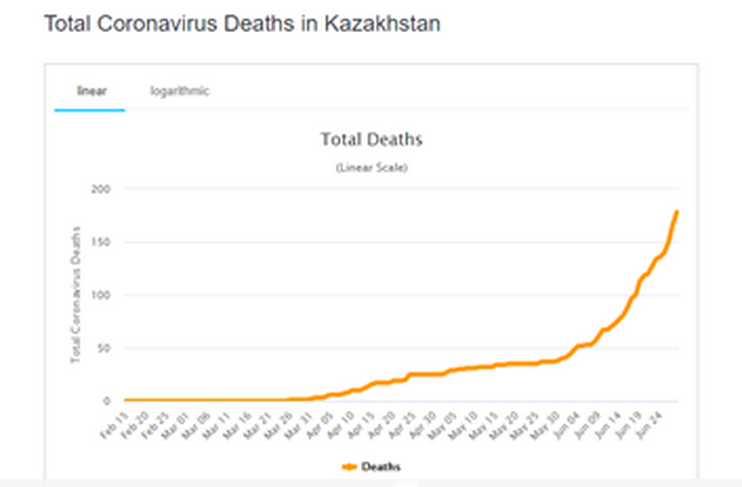 Graph showing total COVID-19 deaths in Kazakhstan
A number of leading state officials have been diagnosed with the virus in recent weeks, the most high-profile being "Leader of the Nation" Nursultan Nazarbaev.