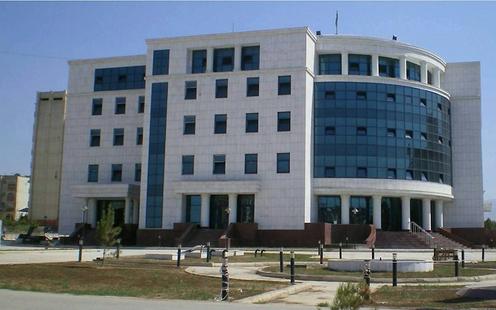 The US embassy building in Ashgabat. Photo from State.gov
The US embassy in Ashgabat has chosen to offer a restrained reply to criticisms levelled at it by the foreign ministry of Turkmenistan, RFE/RL's Turkmen service Azatlyk writes (in Russian).
On 6 April, the US embassy provided Turkmenistan with $920,000 towards measures aimed at combatting the spread of the COVID-19 coronavirus in the country. In a notice about the funding on the embassy's website, republished (but subsequently removed) by the semi-official news outlet TurkmenPortal, it was asserted that "The United States has invested approximately $21 million in healthcare, and more than $201 million in total assistance to Turkmenistan over the past 20 years."
This formulation appears to have offended Turkmenistan's foreign ministry. A statement appeared on the ministry's website, announcing that "the economic cooperation between Turkmenistan and the USA is implemented on the basis of mutual benefit and equal partnership". The claims about US economic aid were described by the foreign ministry as "untrue".
Azatlyk's journalists asked the US embassy to comment on the foreign ministry's statement. The answer they received was that "the United States is proud of its partnership with Turkmenistan in a range of fields over more than 25 years". The American diplomats appear to have chosen to avoid involving themselves in a dispute with their Turkmen colleagues by insisting on the fact that the USA provides aid to Turkmenistan.
Relations between Turkmenistan and the USA have been somewhat strained recently, following the release of the American film 6 Underground. Directed by Michael Bay and starring Ryan Reynolds, the film is set in a fictive Central Asian state called Turgistan that resembles Turkmenistan in more than just its name. The film tells the story of an American billionaire who organises the overthrow of a local dictator by the name of Rovach Alimov. Rovach is the name of a horse that was given to Turkmen president Gurbanguly Berdymukhamedov and declared country's symbol for 2019.