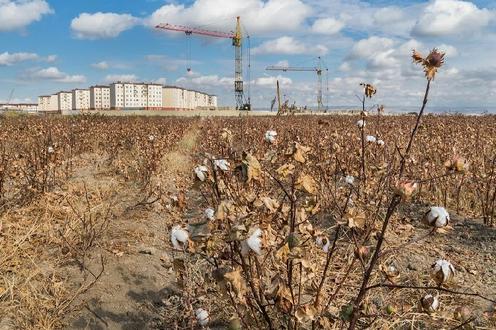 A cotton field near Navoiy. Photo by Andrey Kudryashov, Fergana
The international human rights coalition Cotton Campaign has said it is still too early to end its more than decade-long boycott of Uzbek cotton. Answering a recent appeal by the Ministry of Employment and Labour Relations of Uzbekistan, the coalition stated that the use of forced labour in the country has still not been fully eradicated and that restrictions on the free movement of the group's activists prevent them from independently monitoring compliance with cotton workers' rights. The full statement was published on the organisation's website.
The statement says that, despite progress in rooting out forced labour, it is too soon to overturn the ban. Ending the boycott, the press release suggests, will only be possible when the total eradication of forced labour is combined with reforms empowering civil society, such as registering NGOs that are able to independently monitor the enforcement of workers' rights.
The Cotton Campaign referred to the conclusions of a recent ILO (International Labour Organisation) report that more than 100,000 people in Uzbekistan were forced to work on the 2019 harvest. "Given brands' zero tolerance policies on forced labor (…) brands need additional assurances of worker protections," said coalition member Nate Herman, senior vice president of the American Apparel and Footwear Association.
Responding implicitly to the Uzbek employment minister's argument that ending the boycott is particularly necessary to help his country counter rising unemployment from the coronavirus crisis, the organisation wrote that the global pandemic "has had a devastating effect on the apparel industry worldwide, with steep drops in production orders, defaults on existing contracts, and layoffs of apparel workers in retail stores as well as throughout supply chains. These developments, together with the continuation of significant forced labor in the 2019 harvest, create significant barriers for brands to initiate new sourcing agreements in Uzbekistan."
Nate Herman underlined, however, that Cotton Coalition members "recognize and are heartened by the progress that Uzbekistan has made toward ending forced labor" and "look forward to considering sourcing from Uzbekistan".
The Cotton Coalition's Uzbek Cotton Pledge began in 2006 and unites more than 300 major clothing firms and retailers, including Amazon, Calvin Klein and Adidas. As part of his wave of reforms since coming to power in 2016, Uzbek president Shavkat Mirziyoyev has declared war on forced labour, banning the mobilisation of students and state employees for cotton-picking work. The Uzbek government aims to increase textile imports from $2 billion in 2019 to $3 billion this year, but says that it could double exports if the boycott is lifted. According to estimates by the Uzbek authorities, lifting the boycott could bring an extra billion dollars into the country's economy in 2020 alone.