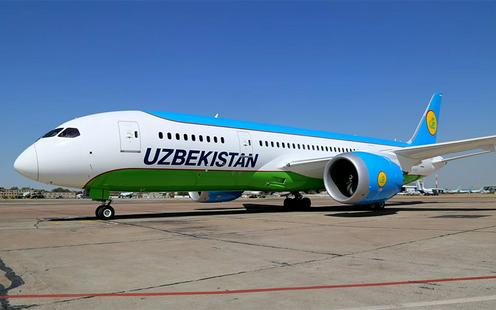 An Uzbekistan Airways airplane. Photo from the company's press office
Uzbekistan will not allow the resumption of international flights until 30 June 2020. The head of the national airline company Uzbekistan Airways' press office, Khabibullo Nabiev, explained to news outlet Kun.uz (in Russian) that the decision has been taken in order to ensure the safety of the Uzbek population during the current coronavirus pandemic.
Charter flights to allow foreign nationals in Uzbekistan to return to their home countries, and Uzbeks abroad to return to Uzbekistan, however, will continue.
The website of Uzbek Airways office in Moscow says that full refunds for tickets bought earlier for flights between the 16 March and 30 June this year can be obtained at the place of purchase.
Uzbekistan announced the total closure of its international borders on 16 March, following the confirmation of the first COVID-19 infection in the country. It was later announced that road, rail and air connections would be suspended until the end of April.