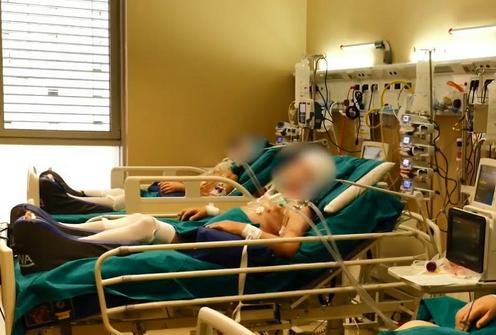 COVID-19 patients. Still image from a video on YouTube
Two people have died from the coronavirus in Tajikistan and a total of 76 are infected, Ozodi cites Tajik state television as reporting (in Tajik). The deaths represent the first official fatalities from COVID-19 in the country, and the new statistics mean that confirmed cases of the virus have risen fivefold in two days.
According to official data, 2,782 people are currently under observation in hospitals around the country with suspected cases of COVID-19. No further details were provided about how the confirmed cases were infected, or where they are being treated.
On 30 April, Tajikistan became one of the last countries around the world to report official cases of COVID-19, when the government confirmed the presence of 15 infected patients in the country. On the morning of 2 May this figure was revised to 32 cases, and by the evening to 76.
As Ozodi notes, some analysts are of the opinion that the authorities deliberately delayed acknowledging the presence of the coronavirus inside the country due to internal divisions within the regime on whether or not to do so. Many people both inside and outside of Tajikistan feel that it was only the imminent arrival of a special delegation from the WHO (on 1 May) that forced the authorities' hand and that the true scale of the spread of the virus is far greater than admitted. As previously reported, stories of increasing pneumonia deaths in the country have been coming in throughout April.
That the virus has spread more widely than admitted would seem to be borne out by the fact that one of the new cases is the leader of the Democratic Party of Tajikistan, Saidjafar Usmonzoda. Usmonzoda called on the authorities not to hide the truth about the extent of infections in the country, stating that it is difficult to lend credence to the official figures when several people in his team alone have tested positive for the virus. A number of well-known figures in Tajikistan have been among the recent rise in pneumonia cases and deaths.
Meanwhile, a group of civil society organisations in Tajikistan have addressed a collective letter to members of the recently-arrived WHO mission, asking them to look into the spate of deaths in the country attributed variously to pneumonia, tuberculosis, heart failure and swine flu. "The day before the WHO delegation arrived, the authorities acknowledged 15 cases of COVID-19," the letter's authors wrote, "but we feel that the real number of cases is far higher."
The NGOs also complained about insufficient protective equipment for medical staff, amidst reports that healthcare workers are having to buy their own masks, disinfectants and protective gowns.