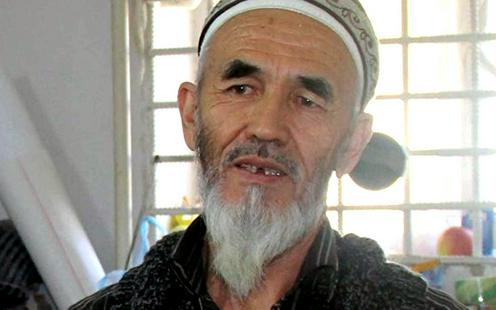 Azimjan Askarov . Photo by GSIN Kyrgyzstan
The Supreme Court of Kyrgyzstan has turned down the latest appeal by human rights defender Azimjan Askarov, currently serving a life sentence in jail. The ruling was reported by news outlet Kloop (in Russian).
The court session was held without Askarov's presence. The ethnic Uzbek's interests were represented by lawyers from the organisation Bir Duino – Kyrgyzstan (One World – Kyrgyzstan). They asked the court to overturn the criminal conviction against and release him from prison, as demanded by the UN Human Rights Committee. The hearing was attended by relatives of the police officer whose murder Askarov is alleged to have participated in back in 2010. They greeted the judge's decision with applause.
Ahead of the court session, the UN's Special Rapporteur on the situation of human rights defenders, Mary Lawlor, had issued a fresh appeal for Askarov's release.
On 11 May, Bishkek Interregional Court was due to hear a civil lawsuit brought by Askarov against the Kyrgyz government. He accuses the authorities of failing to comply with the UN Committee's ruling. The hearing, however, did not take place as it turned out that all interregional courts had been abolished by presidential decree on 8 May. Even the judge was unaware of this decision and apparently turned up for work as normal. The Supreme Court later stated that the relevant decision had been published on its website on 30 April.
Azimjan Askarov was given a life sentence following ethnic clashes in southern Kyrgyzstan in 2010 that led to over 400 deaths and the displacement of 80,000 people. The rights advocate was convicted of organising the disturbances, inciting discord, and being involved in the murder of a police officer. Askarov's supporters claim that the case against him was fabricated by the police in retaliation for his campaign to expose human rights abuses in the law enforcement system, dominated by ethnic Kyrgyz.