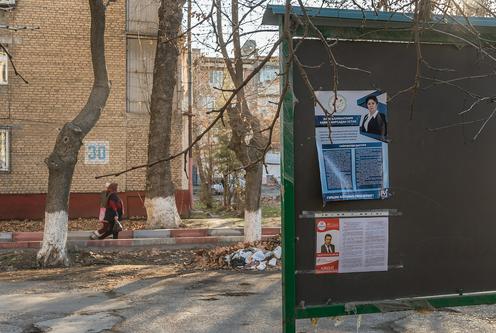 Remnants of the election campaign in Tashkent . Photo by Andrei Kudryashov, Fergana
The largest number of seats in the Uzbek Oliy Majlis (lower house of parliament) have gone to candidates of the Liberal Democratic Party of Uzbekistan, the country's Central Election Commission has announced on its official Telegram channel (in Uzbek and Russian).
According to the commission's statement, UzLiDeP has won 43 seats, the "Milly Tiklanish" (National Revival) Democratic Party 35 seats, the Adolat (Justice) Social Democratic Party 21 seats, the People's Democratic Party 18 seats, and the Ecological Party 11 seats. The occupants of the remaining 22 parliamentary seats will be decided following new elections in 22 electoral districts in which no single candidate was able to gain over half of the vote.
As things stand, UzLiDeP thus looks set to retain its position as the country's largest party (in the current parliament it has 52 seats); Milliy Tiklanish will remain in second place (36 seats in the current parliament), PDPU (27) will be overtaken by Adolat (20), and the Ecological Party will remain the smallest party, though with four seats fewer than previously (it currently has a 15-seat quota reserved for it by the former president but saw this privilege withdrawn ahead of the present elections). Of the 128 elected deputies 36 are women.
Turnout for the parliamentary elections, as well as the elections to the regional, district and city kengashes (councils), was 67.8%. 13,963,627 voters took part in the elections, including Uzbeks living abroad. 150,000 voters cast their vote early.