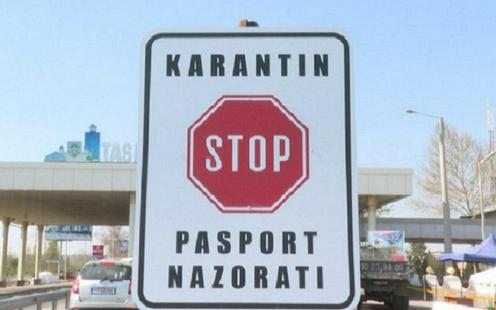 Photo from STV.uz
Uzbekistan's coronavirus taskforce has decided to extend the present nationwide lockdown until 15 August. The decision was announced yesterday on the agency's Telegram channel (in Uzbek).
Uzbek president Shavkat Mirziyoyev had earlier stated that he had given the green light for the lockdown to be extended, without specifying a specific date.
During the present lockdown, companies and organisations may only employ at the workplace those specialists whose presence is necessary for them to function. All other employees are to be put on vacation or work from home. Business trips and in-person meetings are temporarily banned. The announcement also states that employers are obliged to provide medication and material support to employees who become infected with COVID-19 if these employees' material situation requires this.
The present announcement only mentions state agencies and enterprises specifically, but our Uzbek editorial team says that similar demands are being made of private companies and organisations.
Ordinary citizens are meanwhile banned from holding weddings, family ceremonies and other such events; must not gather in public in groups of more than three people; and must wear face masks and observe a social distance of two metres while in public. Those over the age of 65 are not to leave their homes except in cases of urgent necessity.
As before, non-food markets and large shopping centres are to remain closed, along with hairdressers, beauty salons, sports centres, children's daycare centres and boarding houses. Cafés, restaurants and other catering facilities may not receive guests but are allowed to provide delivery services. A ban on travel between the country's regions remains in place. During public holidays (31 July, 1-2 and 8-9 August) all forms of transport in the country are to be suspended, including taxis. Only ambulances and vehicles with special permit stickers will be permitted to circulate.
Efforts are currently being made to mobilise the health system in Uzbekistan amid signs that the country's COVID-19 epidemic may be significantly worse than previously acknowledged, with many people not included in the official statistics. While official coronavirus cases have increased greatly during July, the increase rate of 5-600 per day is significantly below the levels reported in Kazakhstan (1,500-1,900 per day) and Kyrgyzstan (800-1,200 per day) in spite of a far larger population. The authorities have, however, stated that the ambulance services in Tashkent are receiving around 500 calls a day from people complaining of pneumonia, and that ambulance callouts have increased two and a half times since the start of July. It has also been stated that 70-80% of Uzbek cases are now coming among the local population, and not among those returning to the country as was the case with the majority of infections earlier. Unlike Kyrgyzstan (and, from 1 August, Kazakhstan), however, Uzbekistan is not including pneumonia cases without positive PCR test results in its coronavirus statistics.
On 25 July, President Mirziyoyev signed a decree ordering the formation of mobile brigades to treat patients with a mild form COVID-19 and the mobilisation of retired medics and specialised graduates to meet the current shortfall in medical staff and retraining of other healthcare workers for the fight against COVID-19.
While Deputy PM Behzod Musaev today justified the lockdown extension by saying that lockdown measures up until now "have allowed us to bring the situation under control", anecdotal evidence from social media over recent days paints a picture of a chaotic health system failing to provide care to the right people at the right time. For some, this seems to have dovetailed with widely-held concerns about the economic damage of a continued lockdown to produce a push for a change of emphasis. Former communications minister and media businessman Komil Allamjonov, who currently heads the NGO Fund for the Support and Development of National Mass Media, wrote on his Telegram channel yesterday that an extended strict quarantine risks wrecking the Uzbek economy. Allamjonov said that the key is rather to devise a clear, unified treatment protocol for coronavirus patients, arguing that hospitals are full because people are being given the wrong treatment and becoming severely ill and even dying unnecessarily. Immunologist Aziza Khojaeva had earlier appeared on Allamjonov's television programme on the TV station Milliy (of which Allamjonov is thought to be a co-owner) contending that there is no longer any point in introducing a harsh lockdown because the virus has already spread significantly among the population. "In almost every family there already someone who has been infected. For this reason the lockdown no longer serves a purpose," she stated.
On the same day that Allamjonov made his statement, the coronavirus taskforce promised to devise "clear and transparent criteria" for the hospitalisation of COVID-19 patients, with priority given to those over 55 and to people suffering from certain pre-existing conditions. The taskforce has ordered the creation of a standard treatment protocol for patients with mild, medium and severe forms of the coronavirus in accordance with international standards and the drawing up of a unified list of recommended medication, to be stocked by all pharmacies. Importantly, given stories of refused admissions on the grounds that patients have not taken (hard-to-obtain) coronavirus tests, the taskforce has directed that patients with the clinical signs of COVID-19 are to be provided medical help without needing to wait for test results. Mirziyoyev has previously ordered tens of thousands of extra hospital beds to be set up around the country.
Whether such measures will be sufficient to prop up the faltering Uzbek healthcare system remains to be seen.