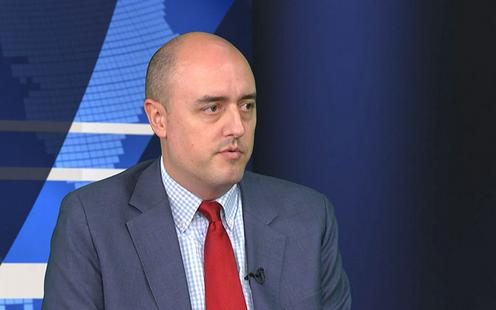 Jamie Fly. Photo from Rferl.og
The president of RFE/RL (Radio Free Europe/Radio Liberty), Jamie Fly, has written an official letter to the foreign minister of Tajikistan, complaining of a smear campaign being conducted by the Tajik government and pro-government media against the organisation's local service, Ozodi. The letter has been published on the organisation's website.
RFE/RL president Fly wrote that the Tajik foreign minister's accusations that Ozodi is supporting terrorism by reporting on the activity of the banned Islamic Renaissance Party of Tajikistan (IRPT) were baseless and merely a pretext for hindering the media outlet's work. Fly said that Tajikistan's designation of the IRPT as a terrorist group is contrary to international consensus.
The RFE/RL boss condemned an alleged state media and social media campaign to slander and vilify Ozodi journalists. State officials and pro-government journalists, he said, have accused Ozodi reporters of "provocations", "conspiracies" and disloyalty to the state and referred to their Dushanbe bureau as "a nest for espionage and exploration".
Fly also referred to the Tajik government's refusal to provide accreditation to Ozodi journalists and its attempts to interfere in the outlet's operations. Speaking of Tajikistan's need to fill the "information void" in the country with respect to the coronavirus pandemic, he wrote: "We suspect, bizarrely, that it was precisely our active reporting about the virus that led the government last week to ban Ozodi's website and censor this coverage."
This is not the first time Jamie Fly has called on the Tajik authorities to adhere to widely-accepted norms of freedom of speech. In the autumn of last year, he wrote a letter to the head of the Tajik interior ministry, urging him to provide Ozodi journalists with accreditation. He then met with Tajik president Emomali Rahmon in Zurich after the latter had criticised the media outlet for disseminating information on banned organisations. In reply, Fly said that Radio Liberty journalists adhere to high professional standards and are not prepared to sacrifice them due to threats from the authorities.
In January, Fly wrote to the Tajik foreign minister accusing the government of Tajikistan of "insincerity" and again called on the authorities to provide accreditation to all of the Dushanbe bureau's journalists to allow them to continue their work.
Ozodi's difficulties have provoked a significant response on the international level. In mid-October last year, the United States congress wrote to Tajik president Emomali Rahmon asking him to ensure the provision of accreditation for Ozodi's journalists. OSCE Representative on Freedom of the Media Harlem Désir has also expressed concern with the situation surrounding the media outlet.