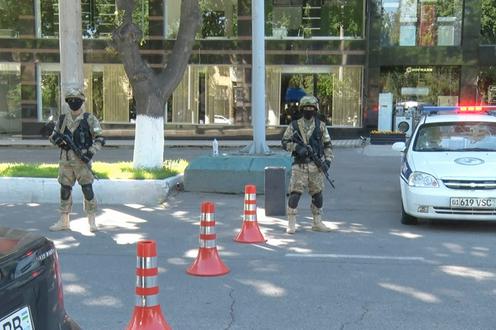 A checkpoint in Tashkent . Photo from libb.uz
Uzbek president Shavkat Mirziyoyev has announced plans for a gradual relaxation of lockdown measures in the country. According to the text of Mirziyoyev's video conference speech published on the president's website (in Russian), the initial changes are to affect children, scientists and car owners. From 30 April, the latter will be allowed to use their vehicles six hours each day – in the mornings and evenings – to travel to work and back, or to go to hospital or purchase medication. A number of workplaces have also been reopened.
From 30 March, Uzbeks in major towns and cities around the country have been banned from using their private vehicles except in cases of urgent need, with exceptions made only for delivery services and a number of key workers. All other vehicle journeys require special permission from the justice ministry and a special permit sticker. Public transport remains suspended.
"Taking into account the decreasing infection rate among the population, I believe the time has come to gradually ease restrictions on the usage of private motor vehicles," Mirziyoyev said.
He has tasked the country's special commission for the fight against COVID-19 with "taking the necessary steps to ensure that, in regions where the relevant restrictions have been in place, citizens are allowed to use their private vehicles between 7 am and 10 am and between 5 pm and 8 pm".
At the same time, however, he stressed that the use of private vehicles is allowed primarily for trips to and from medical facilities and places of work, and in order to buy groceries, medication and products intended for medical use. People who have permit stickers on their vehicles and carry out deliveries are permitted to use their vehicles without any restrictions.
"Given that the epidemiological situation is gradually becoming stabilised", and having consulted with specialists, the head of state declared that he has also decided to allow parents to take their children for walks around the internal courtyards of large apartment blocks and in immediately adjacent areas only, and to permit the resumption of interregional and intercity transport for the delivery and sale of agricultural produce.
Scientists, employees at scientific research institutes, professors and lecturers will also be allowed to resume their work in laboratories and departments provided they observe sanitary regulations.
"Life continues. We must not for a single minute forget about tomorrow, about the future of our people," the president stated. If the situation continues to improve then a further easing of restrictions will be possible after 10 May, he said, though no details were given.
Previously, on 14 April, the Uzbek authorities permitted the resumption of major construction and repair works, as well as the activity of key sectors of the economy. On 20 April, municipal and district authorities in areas unaffected by the virus were tasked with ensuring that businesses in their areas return to work, as long as they observe social distancing regulations. Since then, vehicle repair workshops and spare parts stores, clothes stores, construction material markets and dry cleaners have also been permitted to reopen across the country and visiting them added to the list of permitted activities in Tashkent and other regional capitals – again provided anti-epidemiological regulations are observed.
Lockdown exit strategies have also been announced in recent days by the authorities in Kyrgyzstan and Kazakhstan.
According to the latest information, Uzbekistan has reported 2,017 cases of COVID-19 and 9 deaths. Testing rates per capita is currently on a par with low-testing European nations such as France.