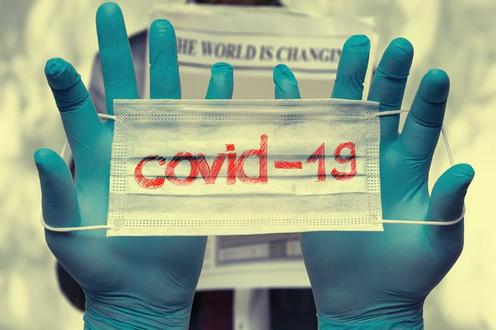 Photo from Pixabay.com
Uzbekistan set a new record for daily COVID-19 infections yesterday, recording 237 new cases according to data on the Uzbek health ministry's Telegram channel (in Uzbek). The country's previous high was 167 new cases back on 14 April.
Fully 195 of these cases were recorded among the population in Tashkent. 20 others were registered among those housed at quarantine centres, with the remaining cases coming in the wider Tashkent region (10), the Khorezm region (8), and the Syrdaryo region (4). As of 8 June, the total number of infections in Uzbekistan has reached 4,352. 17 people are registered as having died from the virus.
The reason for the sudden rise in cases was not given. Since mid-April, Uzbekistan has been recording daily case rises in the range of 20-100 new infections per day, with a large proportion of these often coming among those returning to the country from abroad and those already placed in quarantine. It seems likely, however, that increased testing might be at least partly responsible. When we published an article on the way COVID-19 deaths are being recorded in Central Asia on 2 June, Uzbek testing figures on coronavirus tracking site worldometers.info/coronavirus were at the relatively low level of 13,000 tests per million population (so around 435,000 total tests). Today, however, this figure has gone up to 22,387 tests per million and nearly 750,000 tests overall. Little official information has been available on the topic, but on 5 June, the government's official coronavirus channel on Telegram stated that nearly 19,000 tests had been carried out the previous day.
Since the country began to ease its extensive lockdown restrictions over a month ago, a modest rise in the number of domestic (rather than imported) cases has been observed. Further relaxations, however, are on their way. From 15 June, restaurants and canteens not only in the country's green and yellow zones (areas where there have been no recent new cases) but also in Tashkent will reopen and public bus services will be partially resumed.
Mirziyoyev has previously blamed the rise in domestic cases on failures to observe safety guidelines and promised to punish regional governors for their failures. At a meeting on 13 May, he threatened to close companies that fail to observe quarantine measures and bring criminal charges against both negligent company heads and local hokims (municipal, district and regional governors). At a meeting on 27 May, he placed the blame for growing infections on hokims and other leaders "on the ground", who had "let go of the reins" and shown themselves unable to ensure the observance of lockdown measures.
The key reason for dismantling strict lockdown measures is of course the need to reopen the economy. Yesterday, Uzbek labour minister Nozim Husanov stated that unemployment in Uzbekistan had risen to 2 million following the permanent closure of a number of companies during the pandemic. Previously, unemployment figures averaged around 1.35 million. Husanov also said that around 550,000 labour migrants had been unable to leave the country to resume work abroad. Around $350 million has been allocated from Uzbekistan's anti-crisis fund to build social welfare facilities around the country and a number of measures introduced to create jobs. Labour migrants (often construction workers) who have been unable to leave the country are being given work on new construction projects.
Meanwhile, over 100,000 Uzbek labour migrants in Russia remain on the Uzbek embassy's waiting list for charter flights back to the country, following the worsening of economic prospects for migrants in the Russian Federation. Many of these people, too, will need to be found work.
Over the weekend it was announced that global credit rating agency Standard & Poor's has lowered Uzbekistan's sovereign credit rating from «stable» to «negative» on account of the negative impact of the coronavirus crisis on the country's economy and the significant growth in Uzbekistan's external debt over the last 12 months due to borrowing for major investment projects. At the same time, the agency has maintained its overall credit rating for the country at the level of BB-. Uzbekistan first attained this rating in 2018.